Shortbook™ of the Month: Lines in 4ths
The iii-VI-ii-V-I Progression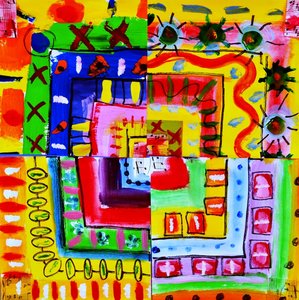 The interval of a
perfect 4th
has been an important melodic and harmonic component of the improvising musician's language since the early 1960s, being introduced to the idiom and popularized by pianist McCoy Tyner, and featured in the compositions and solos of pianists Herbie Hancock & Chick Corea (among others); B3 organist Larry Young; saxophonists John Coltrane, Joe Henderson, Wayne Shorter and Joe Farrell; as well as trumpeter Woody Shaw and guitarist Karl Ratzer, to name just a few.
A good bit of info on the subject has already been posted on this site, and in order to avoid a trip to the Office of Redundancy Office, the dozen or so posts are all linked under the "
Fourths
" category. Check 'em out!
The exercises contained in this post are from a new
Shortbook
™
,
which is in the form of 12 individual melodic lines in 4ths, over the basic premise of the familiar
iii-VI-ii-V-I chord progression
and transposed into all twelve keys.
Augmented 4ths (aka diminished or flat 5ths), diminished 4ths (sounds and functions as a Maj 3rd; derived from the Melodic Minor system), as well as perfect 4ths are all featured in these melodic lines.

Due to its strong root movement along the cycle of 5ths, the iii-VI-ii-V-I harmonic cadence is one of the most common in popular music and found in the vast majority of jazz and pop standards. Its use in this book gives the melodic material a sense of form, resolution and familiarity.

However, a few altered variations of iii-VI-ii-V-I form are used for most, if not all of the lines.

As in the first example below, this might be the most common:

iii VI7 biii IV7(bVI7) ii bii bII7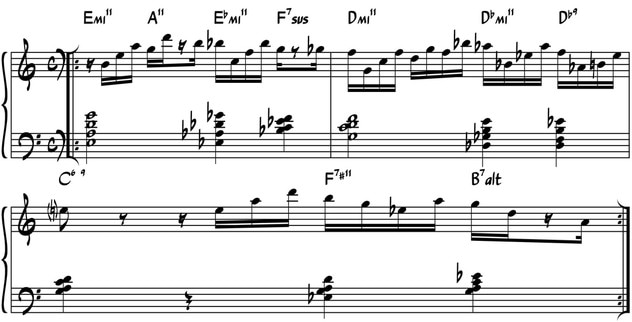 The resulting combination of descending chromatic with perfect fourth root movements creates an added sense of tension and release.It gives one the opportunity to break up the cycle of perfect fourths, employing "shifts", as Walter Bishop, jr described this technique in his book "A Study in Fourths".

Listen
(opens in new tab / window)
---
The example below is a bit more jagged, due to the rhythmic variation of the chords themselves, evoking a strong McCoy-ish vibe. It's also interesting to note the relationship between perfect 4th groupings and pentatonics, both real and implied.

In the example below, the first 4 notes of the melody (B-E-A-D), plus the F# at the top of the E9sus chord spells out a D Maj. Pentatonic / E, followed by the same 4 melody notes with an F natural in the E7b9 chord this time, yielding a D Pentatonic b3 (D-E-F-A-B) over E.

Then:

C-F-G in the melody + Eb & Bb (Eb6 9) = Eb Pentatonic
Bb-F-C-G in the melody + Eb-Ab-Db (Eb13) = Eb Mixolydian (the whole scale)

D-G-C-A in the melody + F (D-11) = F Maj Pantatonic / D
D-G-E-C in the melody + F & Bb (C7sus) = C & Bb Triad Pair (Hexatonic)
Bb-Eb-Ab in the melody + C + F root = Ab Maj Penta / F (should read F-11)
C-F-Bb-G in the melody + the same (G-7sus) = Bb Maj Penta / G (if added D), resolves to:

B-A-G-E in the melody + D & C (C Maj7 9 13) = G Maj Penta / C
Melody rests + F-G-Bb-C (F9 sus) = Eb Maj Penta / F (if added Eb), Bb Maj Penta / F (if added D)
A-D-G in the melody + E (C Maj6 9) = C Maj Penta, G Maj Penta / C (if added B)
F-C-G in the melody + Eb-A-D (B7alt) = F Maj Pent / B, C Penta b3 / B, G Penta b6/ B, C- & D- triad pair (Hexatonic).

And back to E9 sus, no muss, no fuss, Gus!

Did I miss anything?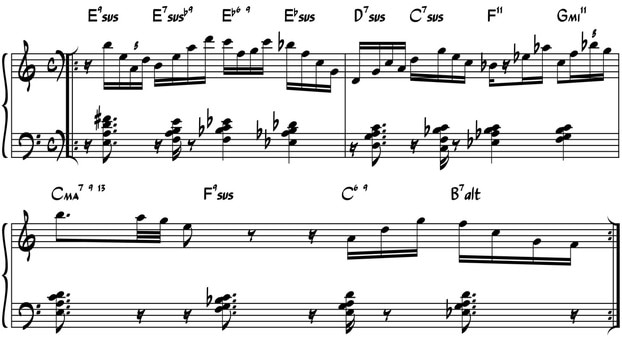 Listen
(opens in new tab / window)
The graphics above with voicing possiilities to the single lines are from the last part of the book, and are in the key of C only. Although they are suggestions meant to justify and support the lines, they often reveal much more harmonically than do the single lines alone.
---
There's much more where this came from!
42 pages of fresh new material.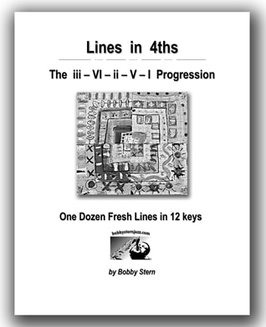 Check out is SSL safe and secure through my E-Junkie Store and PayPal.
B. Stern