"26-2" and "226 Retrosteps" - An Addendum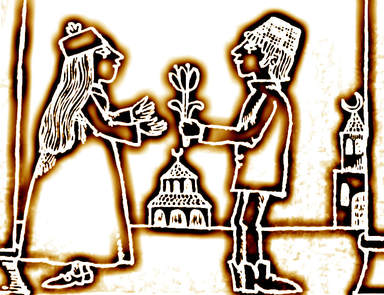 Since I can't seem to get this "Cycle of ASCENDING Maj 3rds" thing out of my system just yet, I thought I'd experiment a bit and see how it might translate, harmonically and melodically, to one of John Coltrane's original "Cycle of DESCENDING Maj 3rds" (aka "Coltrane Changes") compositions.

For no real, apparent reason, I chose "26-2", which is itself Coltrane's "Descending Maj 3rds Cycle" adaptation of Charlie Parker's "Confirmation"

Rather than try to completely do my own thing with the melody, I chose to stick with 'Trane's original melodic rhythm and stay as true as possible to his original melodic shapes, adapting them to the change in direction of the Maj 3rds harmonic cycle.
The results, interestingly enough, retain the basic sound and feel of the original.

(opens in new tab / window) (opens in new tab / window)

The above notation and audio examples are used to illustrate and compare the harmonic effect of the two versions of the Maj 3rd cycle (descending & ascending), all other elements being pretty much equal.

On the left is the head of John Coltrane's original version of "26-2", which employs the "Cycle of Descending Maj 3rds". The audio example is from the original Atlantic recording from October 26, 1960 (hence the title), which, in addition to Coltrane on the tenor saxophone, included McCoy Tyner - piano, Steve Davis - bass and Elvin Jones - drums..

On the right is my own experimental adaptation, titled "226 Retrosteps", which utilizes the "Cycle of Ascending Maj 3rds". As previously mentioned, I tried to remain true to the melodic rhythm of 'Trane's original. The tempo I chose is a bit faster than the original - ca. 225 vs. 196 - which is due to my not checking the original beforehand. It turns out, though, not to really matter for demo purposes - plus it feels good at that tempo, for what it is.

There is, of course, no comparison to the bounce created by 'Trane & Co.'s live, in-studio version. Plus, the accompanying chords were programmed, for the most part, at 2 full beats apiece, which works fine, again, as a demonstration, but is (hopefully) not the way a real pianist would comp (check McCoy).

That aside, let's take a look at the first 8 bars (A section) of each version of the Cycle of Maj 3rds:

26-2 (Descending - F-Db-A)


226 Retrosteps (Ascending - F-A-Db)


The most immediately noticeable similarity between the two is that each of the corresponding 4 bar lines of each version
begin
and
end
- melodically, harmonically and rhythmically - in almost
identical
fashion.
It's the "diddle in the middle" that creates the difference, and that difference, as mentioned in the previous post, is the juxtaposition of the
first two V7-Is
of each cycle:
ex. Line #1
: (F
Ab7 | Db
&
E7 | A
C7 | C-7 F7) of
26-2
are
swapped in
226 Retrosteps
(F
E7 | A
&
Ab7 | Db
C7 | C-7 F7)
Similarly,
Line #2
of each example starts on
Bb Maj
and completes only two-thirds of a full cycle before resolving to the secondary dominant (
D-7 G7
) in the 3rd bar, resolving to the ii-V7 (
G-7 C7
) back to F for the second A section. The
Db7
in measure #6 of "226 Retrosteps" is the
tritone sub
of the following dominant (
G7
), and actually extends the secondary dominant function by anticipating it by 2 beats.
Second 4 bars of:"26-2": | Bb Db7
|
Gb A7
|
D- G7 | G-7 C7 |Second 4 bars of: "226 Retrosteps"
:
|
Bb A7
|
D Db7
|
D- G7 | G-7 C7 |
I'm honestly a bit surprised at how similar, both versions of the cycle sound, when utilized in this manner. If I heard "226 Retrosteps" for the first time without knowing what it was, I'd probably say, "That's "26-2"..... I think?"
In any case, not to get too lost in the weeds, I've included the full
C
,
Bb
&
Eb lead sheets
, as well as the
4-note voicings plus bass
, of "
226 Retrosteps
" as an
addendum
to last month's
Shortbook™ of the Month
, "
Retrosteps - The Cycle of ASCENDING Major 3rds
".
Everyone who's already purchased their copy should receive a freebie code per email in order to download their updated version, by the time this goes live.
Thanks!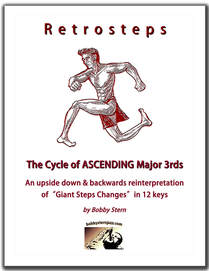 Check out is SSL safe and secure through my E-Junkie Store and PayPal.

B. Stern