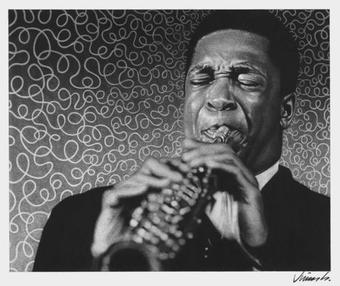 Here's a transcription of John Coltrane's soprano saxophone solo on his composition "Big Nick", recorded April 11th, 1962 at Rudy Van Gelder's famed studio in Englewood Cliffs, NJ and was released as part of the album "Coltrane", on the Impulse! label.

This is the first of two versions of the tune recorded by Coltrane that year; the second, which appeared on the aptly titled Impulse! classic, "Duke Ellington and John Coltrane", was recorded in September.

The main difference between the two versions, is the form (and the intention). The "Ellington" version is a standard 32 bar, AABA classic American song form with a typical late 1940's, Rhythm & Bluesish chord progression on both the A sections and the bridge (in honor of former mentor, saxophonist Big Nick Nicholas, for whom Coltrane wrote the tune). Both 'Trane's and Ellington's solos are played over the complete form.