Miles Don't Play Dat!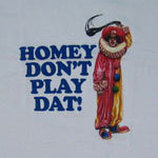 I'd been thinking about doing this post for about a month now, since I happened upon this YouTube vid. It's an interview with Miles Davis by TV producer Bill Boggs from ca. 1990, for what I'm guessing was a local Philadelphia daytime talk show.

The reason I had reservations about posting it is because as a new blogger trying to gain some cred, I thought this might verge on silliness.

Well, after giving it some thought, I remembered that "I.B. Silly" just so happens to be one of my multiple personalities, and in the words of that great 20th Century American poet, John Lee Hooker: "It's in, and it's got to come out".

The barely audible eight word sentence from Miles at the end of the 45 minute video had me literally rolling, and the urge to point it out here was just too great to stifle.

In other words, it was just 2GDM funny!! At least to me, anyway! So out it comes.

You had to be paying attention to catch it. Judging from the comments on the YouTube page, it seemed as if most people didn't watch past the first five minutes of the video. That seems to be roughly the modern day human attention span, I guess.

So without going overtime on y'all, start the video at ca. 44:50 (watch the rest later). Miles responds to a question posed by a guy in the audience about Miles' memories of John Coltrane.
What did he say......?!
Need a translation? OK, Here goes:
el comió los mocos de su nariz
il a mange' crottes de son nez
er ass Popel aus der Nase
он ел сопли из носа
han spiste bussemænd ud af hans næse
той яде сополите от носа му
mangio' caccole dal naso
그는 코 콧물을 다 먹은
הוא אכל את הנזלת מאפו
onun burun sümük dışarı yediler
ער געגעסן באָאָגערס אויס פון זייַן נאָז
"He used to eat boogers out his nose!"
Daaaaaammn!
I didn't know I could speak all those languages!
Thanks Google Translate!
Man, I wasn't sure you could
even
translate "boogers".
Since I had read his autobiography at least three times, I wasn't surprised by what Miles said, I was just surprised that he said it on live TV. The funniest thing to me was the fact that the guy who asked the question was like a little kid waiting to hear his favorite bedtime story. He was
anticipating
(as were most of us, I'm sure),
the expected laudatory response from Miles, praising Coltrane's genius, etc
.
Instead, Miles being Miles, gave us the unexpected yet one more time.
So, little chil'ren, wanna hear a nice Coltrane story?
Whaaap! I don't think so! Homey don't play dat!
*
The audience elicited a nervous kind of laughter in response, including the dude who asked the question; like he was being held down and tickled in the ribs. The host Boggs, quashed it quick enough: "Next question".
*If you're not hip to
the "Homey" analogy, Homey D. Clown, played by Damon Wayans, was a character created by comedian / writer
Paul Mooney
for the American TV comedy series "
In Living Color
" in the early 1990's. Click "
Homey D. Clown
" for a list of YouTube vids that should set you on your way to Homey enlightenment.
Seriously though, folks........
This was not a case of Miles dis
sing Coltrane. Rather, Miles, probably tired of being asked this question ad nauseum for over 30 years, had this one ready to go in his deep bag of licks.
On p. 212 of "Miles: The Autobiography",
Miles, in describing Coltrane during the worst of his heroin junkie days near the end of 1956, said:


".....the shit with Coltrane wasn't funny like it was with Philly Joe (Jones). You could laugh at Joe's shit, but with 'Trane it was getting to be pathetic. He'd be playing in clothes that looked like he had slept in them for days, all wrinkled up and dirty and shit. Then, he'd be standing up there when he wasn't nodding - picking his nose and sometimes eating it. And he wasn't into women like me and Philly were. He was just into playing, was all the way into music, and if a woman was standing right in front of him naked, he wouldn't have even seen her. That's how much concentration he had when he played."
Things apparently didn't improve, as Miles had to let 'Trane go by year's end. Heeding this wake up call, Coltrane went back to his mother's house in Philadelphia and rid himself of his heroin habit, cold turkey.
By late spring of 1957 he was clean, and shortly thereafter, began his now famed tenure with Thelonious Monk at the Five Spot, beginning his rapid ascent to true innovative greatness. By early 1958, he was back again with Miles.
The rest, as we know, is history.
John Coltrane, a deeply spiritual man during his life, has been regarded as an almost saint-like being (see graphic). In that regard, I sincerely hope I didn't offend anyone or gross anybody out.
If I did, please print this out and blow your nose on it real good.
Then we'll call it even, Steven
!
B.Stern
---