Waxing Historical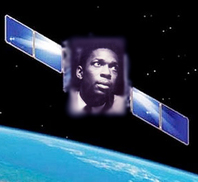 "Satellite"
- John Coltrane's "Giant Step-ed" treatment of the standard "How High the Moon" was recorded as the final tune of the evening session on Oct. 24th, 1960 for Atlantic Records. This late session also produced all of the tracks (with the exception of "Mr. Syms", recorded earlier that afternoon) for the album which eventually became known as
Coltrane Plays the Blues
, which wasn't released until 1962.
The afternoon & evening sessions from that day, as well as the sessions from the 21st & 26th
of Oct., yielded all the material for 2 other albums as well:
My
Favorite Things
(released 1961) and
Coltrane's Sound
, which included "Satellite" (not released until nearly four years later in 1964)
.
These classic Atlantic sessions marked the pinnacle of Coltrane's career up to that point. His version of "My Favorite Things" became an instrumental hit single as well as the Coltrane group's signature number for years, up until his early passing at age 40 in 1967. It also heralded the re-birth and popularity of the soprano saxophone, rarely used in jazz since the days of New Orleans and Sidney Bechet (Coltrane pays homage on "Blues to Bechet").
These are the first recordings which truly showcase his new quartet (formed in April, 1960 after returning from a three week European tour with Miles Davis, his last with the trumpeter), featuring the young pianist
McCoy Tyner
, who joined the group in late May or early June, and polyrhythmic master
Elvin Jones
(replacing Pete La Roca on drums about a month before these sessions). The bass was anchored by Steve Davis who was replaced in early 1961 by Reggie Workman, who was himself replaced late that year by
Jimmy Garrison
, rounding out the classic Coltrane Quartet.
These recordings also signaled the end of 'Trane's
"Giant Steps
period". This period had begun in 1959, with his recordings of tunes based on his recent discovery, the so called
Giant Steps or Coltrane Changes,
which was a unique harmonic formula employing the cycle of
descending major thirds
root movement. This cycle was used primarily as a substitution for the more traditional ii-V7-I root movement in fourths and fifths common in much of western music, including jazz.
His originals "
Giant Steps
", "
Countdown
" (based on "Tune Up") & "
Fifth House
" (based on "What is This Thing Called Love") being the first of those tunes to be recorded in 1959.
Besides "
Satellite
", other tunes recorded during that week in Oct. 1960, which make use of Coltrane Changes, either in whole or in part are: "
The Night Has a Thousand Eyes
" (bridge), "
Exotica
" (based on "I Can't Get Started"), a total reharmonization of "
Body and Soul
", "
26-2
" (based on Charlie Parker's "Confirmation") and a reharm of "
But Not For Me
". His classic ballad, "
Central Park West
" is based, not on the major third cycle, but on a progression of
ascending minor thirds.
It almost seems as if Coltrane wanted to record these tunes for posterity, some which he had been performing live with the quartet, before moving on and leaving them for the rest of us to grapple with.
About three weeks prior to the first recordings of "Giant Steps" on March 26th, 1959 (the definitive version was recorded on May 5th),
Miles Davis, with Coltrane on tenor, was in Columbia's studios for the first
Kind of Blue
session, which introduced to the world Miles' composition "
So What
", consisting of only two chords (16 bars of D min7, an 8 bar bridge of Eb min7 and a final 8 bars of D min7).
"So What" not only set the music world on it's ear, but it also ushered in the era of modal jazz. It totally altered the way musicians improvised; based not so much on a set of chord changes, but instead on representative modes or scales. These scales were based on one or more chords lasting for 4, 8, 16 bars or longer.
Coltrane's multi chordal
Giant Steps
approach, however, was the antithesis of this, usually having two chords per measure and played uptempo. Needless to say, the technical requirements to successfully pull this off were daunting.
His solos on "So What", both on
Kind of Blue
and
the following TV date with Miles from Apr. 2nd,
are typical Coltrane; brilliant, hauntingly beautiful and technically flawless, but contain no trace of his still almost secret
harmonic recipe.
He had given the world a sneak preview at a Chicago session in early Feb. 1959,
featuring Cannonball Adderley and the rest of Miles' sextet, minus Miles.
Coltrane opens his solo on "Limehouse Blues" with what must have seriously bent everyone's ears who heard it for the first time and elicited an involuntary response like, "What the ---- was that!?". Over the first four bars of F7 he superimposes Cm - Db7 / Gb - A7 / D - F7 / Cm7 F7 / and then again over the next four bars of D7 he defines Am - Bb7 / Eb - Gb7 / B - D7 / Am7 D7.
Coltrane Changes! Hello!
The fact that he was already playing his formula, picking and choosing his spots, suggests that he may very well have been doing this live on the bandstand
with Miles as well. Why he chose to restrain himself from using them on Miles' recording of
Kind of Blue
as well as the TV version of "So What" that followed remains unclear.
This, however, was not the case a year later when Coltrane
toured Europe with Miles' quintet for the final time. Cannonball had already left Miles to form his own group with his brother Nat. European radio recordings of concerts in Paris, several German cities, Copenhagen, Stockholm, Zurich and Holland all reveal Coltrane's Major 3rd cycles, among other things, to be very much in evidence throughout in 'Trane's extended solos. Audiences were generally shocked and awed at his intensity, imagination, and stamina. They didn't expect this, as nothing like it was evident on any of his or Miles' recordings to date.
So back to late
Oct. 1960 and the Atlantic sessions. Why after leaving such an important part of his legacy on these recordings did he finally abandon them? The answer is clearly given in an interview in 1961 by the man himself:
"Now I prefer the rhythm to be free. I had to get it beat into my skull (laughs), but I accept this principle now. At first I wasn't sure, because I was delving into sequences, and I felt that I should have the rhythm play the sequences right along with me, and we all go down this winding road. But after several tries and failures at this, it seemed better to have them free to go; as free as possible. And then you
superimpose whatever sequences you want over them
."
I'm not really sure what "failures"
he's referring to, but there it is.
Coltrane's music from 1961 on became predominately modal in character: Pan modal, poly modal, a-modal, with his use of sequences, bits and pieces of the major third cycle, minor third cycle, pentatonics, four note groups, etc. in and out of the home key. But that's a subject for a whole different post(s).
Oh Yeah, Satellite!


It's hard to believe that more than 52 years have elapsed since this was recorded. Just think that 52 years before 1960, the only Jazz to speak of was known as ragtime. Commercial Jazz recordings were still more than a decade away. In the ensuing years since 1960, much music has been recorded, and "Satellite" has more than stood the test of time. It sounds as relevant today, maybe even more so in hindsight, than it did when it was first recorded.

A large part of "Satellite's" appeal, at least to me, is the transparency created by not having the piano present. The absence of a chordal instrument only highlights the interplay between 'Trane and Elvin, which was a combined force in and of itself.

As previously mentioned, "Satellite" was the last tune recorded at the session, following three takes of "Blues to You" and one of "Blues to Bechet", a soprano feature, both also without piano, so they were good and warmed up for "Satellite". Whether Coltrane instructed pianist McCoy Tyner to lay out ('Trane would often "stroll" without piano during parts of his solos), or McCoy had to split to play a Bar Mitzvah at Leonard's of Great Neck [sic], is not clear. The dense harmonic nature of this tune, Coltrane's deft handling of it, plus the omnipresence of Elvin Jones, make this arguably Coltrane's most satisfying trio recording and a truly great piece of recorded music, the sum of which is even greater than it's parts.

"Satellite" is 40 bars long with a form of A-B1-A-B2-C. It's based on "How High the Moon" which was 32 bars long plus 'Trane added an eight bar tag of D min. over an A pedal. There's also a 64 bar vamp over the same pedal at the end of the out head.

One thing that strikes me about Coltrane's solo is his exhaustive repertoire of eighth note digital patterns. These patterns are almost always in four note groupings. Rhythmically, they would fit each chord in a typical Coltrane cycle which would last two beats (4 eighth notes) apiece.

Whereas his solos on both versions of "Giant Steps" as well as on "Countdown" show a predominance of 1-2-3-5 type patterns on both the major and dominant chords in the cycle, on "Satellite" these so called "digital patterns" are much more varied. This makes for a less formulaic and more organic sounding ride, which becomes even more apparent without the piano.

The eight bar tag at the end of each chorus, over a D pedal, puts the rhythmic flow in a sort of churning, suspended animation. It also serves to build up tension, which is released on the first downbeat of each new chorus, only to be built back up again. The vamp at the end of the out head illustrates 'Trane's use of four note patterns in and out of key over a longer modal arc (again D pedal). These are techniques he would begin using in the near future on his own versions of "So What", namely "Impressions".

And then, of course, there's Elvin......!

The Transcription

As with all improvised solo transcriptions, they're essentially dots on a page; incapable of capturing the sound, feeling and intensity of the soloist. Thankfully, we have the recordings.
One thing transcriptions can do, for better or for worse, is provide us with a tool for analysis. Like a snapshot, a transcription can give us a glimpse into how a soloist navigated a set of changes, modes, etc at that moment. It can help one to understand, theoretically, what worked and why. How an individual comes away with this information and how they use it as part of their own musical expression depends on that individual.
I began this "Satellite" transcription back in the late '70's. I had an old reel-to-reel tape deck on which I had
Coltrane's Sound
recorded. I was able to slow the tape down to half speed, which made it easier to catch each phrase, and it also dropped the pitch by an octave. With pencil and paper (and eraser) I did maybe two choruses of Coltrane's solo and stopped.......... for about twenty years!
By then I had gotten a Mac, and I discovered Transcribe!
(see my post from 12/09/2012), with which I could slow down an mp3 version by various increments without changing the pitch. This inspired me to continue the job I had long ago started. So, still armed with pencil, paper & eraser, I finally finished it.
Sometime shortly after
that, I discovered Finale music notation software. I seem to remember getting the transcription onto Finale by first playing it very slowly into Logic with my EWI (Electronic Woodwind Instrument), saving it as a MIDI file, and then opening it up in Finale. I'm pretty sure it was something like that. Once in Finale, I could make corrections, etc., which I finished justly recently in order to post it here.
It's been a long and winding road, just like "Satellite".
Besides the version in tenor key (Bb), I'm also posting a version of the solo in concert key for all you concert keyers.
On a final note, I discovered about midway through writing this post, that I wouldn't be the first to post a transcription
of "Satellite" online. Being the newbie blogger that I am, I was unsure if I should continue or not, as it might not be proper "Blog Etiquette" (blogiquette?). I decided to go ahead anyway, as long as I felt that I could add a different spin with some fresh info and hopefully avoid being redundant.
With that said, I think it's only right that I link you to Buffalo, NY saxophonist / composer Kelly Bucheger's "Satellite" transcription
which he posted on his blog on Jan. 29th, 2011. It's very well done and looks like the "Mona Lisa", totally suitable for framing. It's very detailed with nuances: ghost notes, alternate fingerings, overtones, coughs & sneezes, etc., whereas I kind of just stuck with the notes, ma'm, just the notes, as I heard them.
Anyway, now they're both available. Two "Satellite" transcriptions
for the price of none is a great deal anytime, anywhere!
B.Stern
---