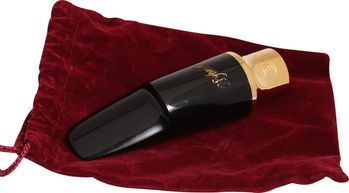 As I revealed in my
post on synthetic reeds
from 12/02/2012, I have been an endorser for Bari Woodwinds since 2006 and I've been very happily playing their synthetic reeds since 1987.
So, you ask; what does an endorser do
?
An endorser endorses, of courses!
But only if the product in question warrants an endorsement. Right?

Back in late 2012, I was kindly offered to try Bari's new "Hybrid" tenor mouthpiece. Even though I was skeptical about trying new pieces, as I had been very happy playing my Guardala King Curtis (original) for 25 years (I've never been one to fool around with mouthpieces), I said "sure, I'd love to check it out"!

I received one gold and one silver stainless steel "Hybrid", which is composed of a unique melding of metal and hard rubber. After unboxing the "gold" and finding a ligature that fit (it's a "fatboy", so I had to use the ligature from my baritone mouthpiece), I was ready, but not really expecting all that much.

Well, call me a pessimist! After the first few notes, I was like, "Whoa!", kind of shocked at both the response and volume, first of all.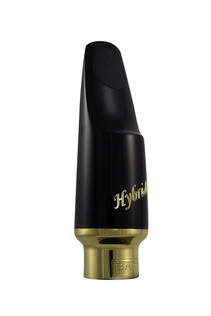 As I kept playing, I was delighted at the warmth, fatness and evenness of tone throughout the registers. The Keilwerth SX90R tenor that I was play is known to have a fat, ballsy bottom end, but the Hybrid allows me to bring that out even more.

Whereas, I would sometimes have trouble going from a low Eb to a low C (or B & Bb) without the air stream being unintentionally broken, the Hybrid now makes that move feel like butter.

My altissimo register has always been a kind of hit or miss work in progress, but with the Hybrid, I can "hear" the light at the end of the tunnel now.

The Hybrid hasn't changed the character of my sound, it has just made it warmer, fatter and wider, without sacrificing it's upper partials, or brightness.

Hat's off to the Hybrid's main developer at Bari and current partner, Gary Spears. Give that man a raise! .

Gary explains the concept behind the Hybrid:

"The idea was brought about by talking to players and listening to how they described the best features of the mouthpieces they've played. We were hoping that combining hard rubber and brass (now stainless steel too) would give us the best of both worlds. We knew that just by adding a collar was not the answer, so we made an insert and bore out the body and fitted them together. We did have some issues in the beginning in finding the right glue to keep it together, but now we have it."

"Each mouthpiece gets tested before it leaves our plant. We actually had three prototypes to test. How we determined which one to go with was: We had taken them to a show and two of them came back with so-so reviews. The third one disappeared."

As they say, "Imitation is the highest form of flattery", but in this case "theft" seems to be the operative noun.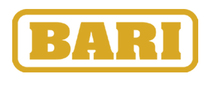 As you might have guessed, I have laid my trusty Guardala aside (sold it, actually) in favor of my new piece, the Bari Hybrid. The Guardala, after 25 years, has served me very well. With the new Hybrid though, I feel there's more room for growth in my sound and how I perceive and produce it.

Because the Hybrid's dimensions are wider than the Guardala's, I've become more aware of taking enough mouthpiece and conscious of my tongue and throat position as well.

As I stated in an earlier post, mouthpieces and reeds don't produce the sound, you do. With the Hybrid I'm discovering new aspects of my own sound and how I can consciously manipulate and enhance it.

B. Stern