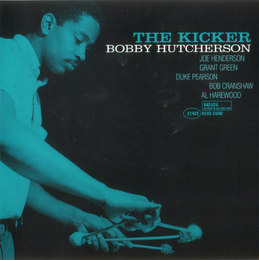 Click for more info, courtesy of CD Universe
As I've been frantically trying to finish my new eBook
"Slick Licks That Stick"
during the past several weeks and hadn't had the chance to post anything new, I thought I'd do a quickie "Marc Meyers type" record review of an album I've been digging a lot lately, Bobby Hutcherson's 1963 recording,
"The Kicker"
, featuring, besides Hutcherson on vibraphone, the always amazing Joe Henderson on tenor (of course), Duke Pearson - p, Grant Green - guitar (tracks #4-6), Bob (he's everywhere, he's everywhere!) Cranshaw - bass, and Al Harewood on the tubs. Not only does the music on this album sound fantastic (give RVG his props, too), it also
feels great
!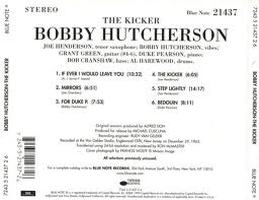 It blew me away to learn that, although the music here is from a session dated December 29, 1963, it wasn't until 1999 that it was actually released! I don't get it, but all I can truthfully say is, "better late than never". Right?! Maybe the (Alfred) Lion & the (Frances) Wolfe, Blue Note Records owners, had a premonition of the "British Invasion" (Beatles, Stones, etc.) that was about to happen, and upset the whole music industry. Who knows? In any case, when you look back at the cast of characters on this recording: Hutcherson, age 22; Henderson, age 26; Grant Green, age 28; these were the "young lions" of the day. Pearson & Cranshaw, age 31 where the mature lions, and Harewood, at age 40, the "seasoned professional". Together, for this session, they made a loosely swinging, tightly knit, soulful unit.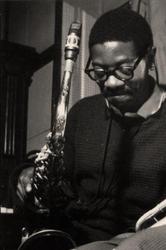 Joe Henderson
The opening track, Werner & Loewe's "If Ever I Would Leave You" is a bouncy swinger, with Joe Henderson being Joe Henderson: quick, inventive, unpredictable, understatedly funky, with that tone that reminds me of dark, bitter-sweet chocolate. Plus, his time feel and swing were always impeccable. I just love me some Joe Henderson. I believe he is among the top 5 all time great improvisers and maybe only second to 'Trane among tenor players. Although, he's gotten much respect, I don't believe he's gotten his true just desserts. More on this guy named Joe in a future post.

"Mirrors" is a ballad composition by a different Joe, drummer / pianist Joe Chambers (age 21). As Chambers was also very familiar with the vibraphone, he was able to compose the perfect ballad for Bobby Hutcherson, with a beautiful, lyrical mood, haunting melody, and with intriguing chord changes. Henderson's short solo here is gorgeously understated, almost sub-tone.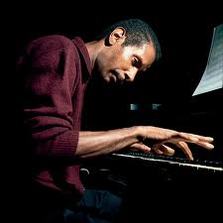 Duke Pearson
The only Hutcherson original from the date, "For Duke P." (assuming it was written for the album's pianist Duke Pearson), is a medium-up swinger with solos by Hutch, Henderson and Pearson. Duke Pearson was always known more as a composer and session leader for Blue Note, but he was a helluva swinging pianist. His comping here together with Hutcherson's vibes as the other chordal instrument is full of space and give and take.

The album's title tune "The Kicker", an innovative, uptempo modified blues, and a Joe Henderson original, has it's debut (although not the definitive version) here. The classic version was recorded almost ten months later (with Henderson as a recently recruited member of the Horace Silver Quintet), on Silver's classic album "Song For My Father".

Another Henderson original, the medium bounce, Basie-style blues "Step Lightly" is, at 14 plus minutes, the longest track on the album. Pearson, Hutcherson, Green & Henderson all say their piece with funky eloquence.

"Bedouin", the date's only Duke Pearson original, is a unique tune, recorded again about a year later on Pearson's own date, which produced the album "Wahoo", featuring Henderson and Cranshaw, as well. It gets more of an medium-up treatment here than on the "Wahoo" date, which to my ears is the superior version.

Nevertheless, this is a great album, as every tune here is enjoyable and worthy of study. If you ain't got it, get it!

Anyway, you "got it" on YouTube. Here's most of it.

B. Stern