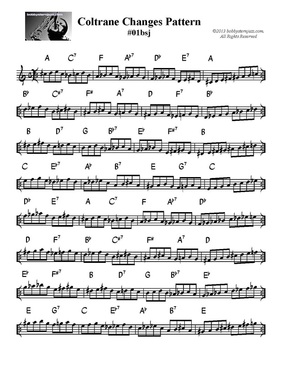 This is a simple digital pattern exercise that will take you through a Coltrane Change (aka Giant Steps, Descending Maj 3rd Cycle, etc) sequence. The 4 note digital patterns are:
3-4-5-3
on the tonic Maj. chords &
b7-8-9-b7
on the dominants.
While not exactly a plug and play lick, it's a nice little finger exercise that flows through the changes and keeps your mind focused on them.
It should be duly noted that this exercise has been certified non-hazardous by the Dept. of Homeland Chopscurity.
Whew! I actually feel more like I do now than when I first got here!
Download PDF
B. Stern