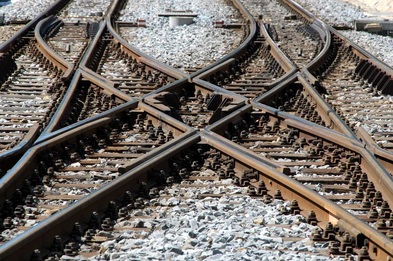 This week, on our way back from 1-2-5 St., we'll take a little detour to the tiny town of Giant Steppes, where, thirsting for knowledge, we'll descend the stairs to a local establishment known as "The Cycle of Major Thirds" to get a taste of some "fluid" voice leading.
Are ya w
ith me?
As in a previous "Coltrane Changes
" exercise
posted here
, this line resolves to the Maj. 3rd of each of the 3 tonic Major chords in the cycle, from the b7th of each of it's preceding V7s (ie.,
C7
- C-E-G-
Bb
resolves to
F Maj.
- F-
A
-C).
This basic Major Scale resolution is the corner stone of Western harmony, and when utilized in a sequence such as this (Cycle of Descending Major Thirds, 'Trane Changes, Giant Steps Changes) which is perceived as being difficult or challenging, the results are of a smooth flowing line which sounds logical and is finger friendly. The harmonic movement, itself, takes care of the rest.

The pattern is simply:
3-5-8-3 - A Maj. triad, b7-2-1-b7 - C7 /
3-5-8-3 - F Maj. triad, b7-2-1-b7 - Ab7 /
3-5-8-3 - Db Maj. triad, b7-2-1-b7 - E7 /
A Maj. Bebop Scale

Salud!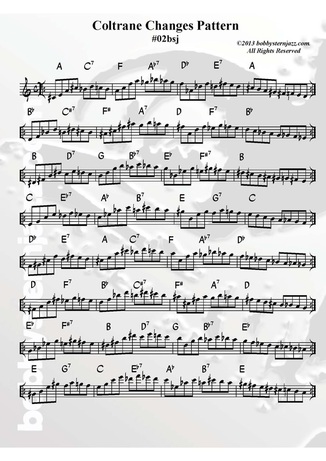 B. Stern