Let's take a look at a very hip sounding scale, Melakarta #31, known as
Yagapriya
. As you can see on the keyboard graphic to the left, Yagapriya has an unusual interval makeup:
1 1/2 steps - half step - half step - whole step - half step - half step - 1 1/2 steps
The interval scheme of the
second four notes (tetrachord) is the reverse of the first four notes, separated by a whole step.
Yagapriya can also be thought of, in western terms,
as 4 triads: (In C)
C Maj., C min., F Maj., & F min.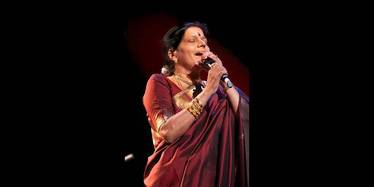 R.A Ramamani
Featured here is a composition based on the Melakarta
Yagapriya
, composed by the great singer / composer and educator,
R.A. Ramamani
, of the
Karnataka College of Percussion
(KCP) in Bangalore, India; which she runs together with her husband, percussion guru,
Mr. T.A.S. Mani
.
I had the privilege to have met them both several years ago, and experienced Carnatic Music for the first time through them, up close and personal. Not only was I blown away by them as musicians and as people; the experience also opened the door for me to a whole new array of musical possibilities and changed the way I've looked at music ever since.
Below is a video from the late 1980's or early '90's
, of a Jazz performance of "Yagapriya" by a trio featuring the late, great
Charlie Mariano
(long associated with KCP) on alto saxophone, German bassist Ali Haurand; and noted French drummer, Daniel Humair.
The video cuts in during Charlie's alap (intro) over which he plays some great altissimo stuff on the scale. They then play the entire composed melody (see download below). Charlie then solos over the scale to an open walking bass line. Short bass and drum solos follow
before they go back to the last part of the head and out.
No beauty contest winners here, but a nice, neat
well documented performance. Good work, guys!
I was fortunate to have had the opportunity to perform this tune several times
, including at the North Sea Jazz Festival 2010 with a group consisting of (multi) noted Dutch pianist Jasper van't Hof, noted Belgian guitarist Phillip Catherine, noted German bassist Dieter Ilg and noted English drummer, John Marshall (as you can see these guys are all "noted"). The group was about playing the music of Charlie Mariano as a memorial to him on the first anniversary of his passing in 2009.
Our arrangement of "Yagapriya" was as a duo with Jasper and myself.
Because the tune is in Ab concert, which happens to be Ramamani's "sruti" or key, it lays perfectly on the tenor saxophone so as to access low Bb (Ab concert) as the tonic. That means I was able to give the scale some overtone and multiphonic treatment on the intro. We then played the tune down in unison before Jasper did his solo piano thing from India to Neptune and back. We went back to the entire head, as I remember, and out. Unfortunately, there's no recording that I know of. In any case, this tune is challenging and a lot of fun to play.
Check the video, the lead sheet, and the Yagapriya scale exercise.
B. Stern