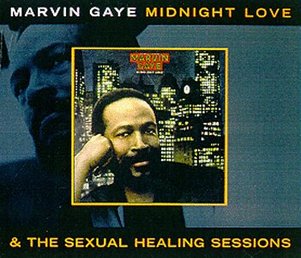 After seemingly scoring some points with Marvin (Gaye) and Harvey (Fuqua) with a brief tenor solo on "'Til Tomorrow"
(see Part 1)
, I talked my way into having them invite me back for some more fun the next day.
When I found out they were going to be recording in Munich for a few more days, before Marvin headed back over to Ostend, Belgium, I had to try to convince them I could still be useful; and while I don't consider myself one of those individuals born with the gift of gab, whatever I told them worked.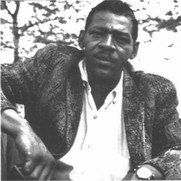 Little Walter Jacobs
So back I was. I had told them I played bluesharp, which I had done since I was in high school. I loved me some Muddy Waters and my main man was bluesharp king and innovator Little Walter Jacobs. By the time I was 15, I had learned pretty much all of his recorded harp solos, at least those which were released on LP or 45 rpm at that time, and which I could get my hands on. This was before I knew about Bird or 'Trane or anybody like that and memorizing Little Walter's harp solos was my first lesson in jazz phrasing.
I didn't do anything like that here, though. Marvin said he had written this reggae in memory of Bob Marley, who had passed away the previous year. I'm not sure if he said he wasn't particularly into reggae or that he didn't think he could pull one off, but in any case, he wanted to do one in Marley's memory.
That tune was "Third World Girl". In the original reggae version, which was released in 1998 as part of
"Midnight Love and the Sexual Healing Sessions",
Marvin starts out with a "woooo-ooo-ooo" type Native American Indian holler, which he instructed me to imitate on the harp. I thought that was real cool and very effective, but on the original album release, they cut the harp out of the beginning and brought it in first later in the song. Throughout, I just kept it very simple and basic.
On the 1998 release, unbeknownst to most, they did a classic turntable-type tempo / pitch drop of one whole step, from the original key of A, to the key of G.
Why? I'm only guessing, but probably, because somebody (remix producer / dj) thought that the original tempo (bpm) was too fast for a reggae. What I don't get is the fact that they had digital "time stretch" technology in 1998, which could have slowed down the tempo, but kept the original pitch.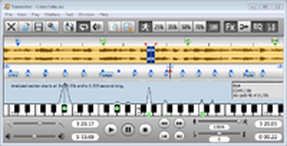 Transcribe!
It really bothers me whenever I hear it, which is not that often. It sounds like Marvin has the flu. Just A - B it with the original 1982 album release and you'll hear what I mean. Luckily, I was able to pitch it back up, for my own listening, with and / or without the original tempo, using a readily available program like
Transcribe!
The other tune I played on was the funky / dance joint
"Joy"
, on which I did some ad libs on the intro as well as on the vamp out at the end of the tune. I didn't play in the horn section, which sounded really tight. That was done in L.A., I guess.
I cheated a bit on this one, and you heard it first here, after all these years.
The tune was in Eb concert (F tenor key), which because of the fingering, was not the best key on the tenor for me to do what I wanted to do on this tune, which was to play some bluesy, funky pentatonic stuff, using the altissimo range in spots. That meant altissimo Ab, Bb & C which was very difficult for me to negotiate with any decent kind of speed in those days. Even today, it's still somewhat awkward, though over the years I've discovered much better and smoother altissimo fingering combinations.
But....I could play the hell out of some E minor blues / pentatonic (F# tenor). Since I was playing more fusion / funk with guitars, etc, in those days, I was much more accustomed to playing in E, a guitar key, anyway.
So rather than mess around and waste those good folks time and money, I asked the engineer if he could speed up the tape so that it would sound one half step higher (from Eb to E concert) so I could record my thing in E, then lower it back down to the original speed and key of Eb, so it would sound like I played it in that key. I'd seen that done in studios before so I knew it could be done, and it worked out fine.
Betchya you wouldn't have known if I hadn't told ya.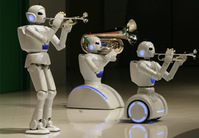 Here Come the Robots
I mean, that's nothing compared to all the digital manipulation that goes on today with literally every recording. Everything is available from auto-tune, to virtual instruments, all kinds of fx plugins, beat mapping, etc. Stuff that can be had on any computer. Anyone can pull the trigger, with the "music" sounding more and more robotic all the time.

So again, everyone seemed to be happy with the results of my efforts. So now it was time to........ get paid!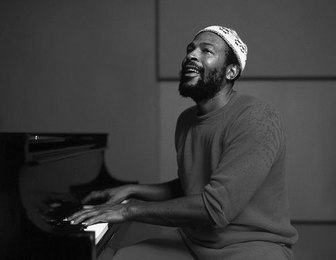 Harvey Fuqua had given me cash for the previous day's session, I think I used to charge something like 300,- Deutsch Marks (ca. $300) in today's money) for a session, depending on the number of tunes. It seemed that on that day, though, nobody had any cash. Marvin said that if I'd wait around for a bit while he finished up some overdubs, he'd take me over to his hotel and pay me with a personal check.

So I just hung out for what must have been several hours. I'm not sure any more exactly what Marvin was doing, or on what tune, but it seemed to me that he was experimenting, trying some things out both on the keyboard and vocally.

I don't remember exactly what I did the whole time, either, but I do remember Harvey Fuqua and the woman from the record company were both crashed out, leaning on each other, fast asleep in the control room. I might have taken a nap myself. It was getting late, late.

By the time Marvin said, "Let's go," the sun was up and the birds were chirping. It must have been about 4 or 5 AM. We got into his funky, older model Mercedes Diesel. He drove, and seemed very awake. I think he was really happy with the way his new album was shaping up.

During the 15 minute or so ride to the hotel, we talked about, among other things, living in Europe and he said, "I think German woman really like black men," and I replied, "Yeah, especially when his name is Marvin Gaye!" We chuckled and when I looked over at him, the hair on the front of his head was sticking up, kind of like Don King, not your typical Marvin Gaye image. I couldn't help thinking something like, "Man, how cool is this, cruisin' around Munich at 5 AM in a Benz with my Big Bro' Marvin". Shit could have been wurst. Bratwurst!

He had a suite on the top floor of one of the large hotels in the eastern part of Munich, I forget exactly which one. When we entered the suite, he opened the door to a room on the right and peaked in and I could see a couple of kids asleep. We then went into the main room and there was a fine blonde laying on the fold-out couch. She was wearing jeans and a tee shirt and didn't look surprised at all about having company at this late hour, so I suppose Marvin had phoned in advance before we left the studio. I don't remember her name, but I remember her as being beautiful and friendly and that she was Dutch.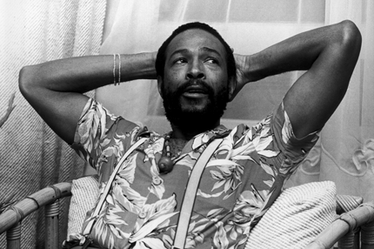 Marvin sat down next to her and I sat down across the room from them. He got his check book out, asked me how much, scribbled out the amount, signed it and handed it to me. I, of course, thanked him very much.

It was a personal check with his name "Marvin Penz Gaye" printed in the upper left corner. I've never been one to collect autographs or memorabilia and the like, but I do regret now, not having made a photocopy of the check before I cashed it. I mean, what he said next gave me reason enough to believe I might be getting a few more of them.

He then told me, "I'll be going out on tour next year (1983); the whole year, the whole world! You're really a fantastic musician and I'd love you to be part of it."

I, of course was like, "Wow! That'd be awesome!"

I then remembered that I had recently been accepted to Berklee on a tuition scholarship, so I told him that I was planning to be in Boston, but as of yet, had no way to be contacted there personally.

At this point, as I was talking to him, I remember he laid down on the couch next to the chick and pulled the covers over himself, still fully clothed, which I thought looked kind of funny.

He said, "Don't worry. Here's my parent's home number in LA, where you can reach me. I'll give you my manager's number in Belgium, and a number at Columbia Records. When you get set up in Boston, get in touch with me."

He wrote those three numbers down on a slip of paper, which I immediately put in my wallet. We chatted a bit more before I got up, thanked him, said good bye and left.

I took a taxi home, feeling like I had hit the lottery.

Check out Part 3, The Thrilling Anti-Climax
B. Stern