Here's a short etude I scribbibled out recently over the changes to the ever popular standard American song from the 1930's,
"Body and Soul"
, the music having been written by Hollywood composer / orchestrator Johnny Green, who also composed other well known standards, such as "Out of Nowhere" and "I Cover the Waterfront". All three of these tunes have been popular vehicles for improvising musicians for many years.
"Body and Soul" has since been played and / or recorded by just about everybody.......
, and I mean
everybody
. Of course, the definitive version is Coleman Hawkins 1939 classic recording, where he completely abandons the melody after the first 2 bars.
Then, there's John Coltrane's awesome, reharmonized version from 1960, which included his famed 'Trane or Giant Steps Changes (Cycle of Descending Major Thirds) on the bridge. (Both YouTube vids embedded below).

"Body and Soul", a 32 bar, AABA "standard" American pop song, was harmonically innovative for it's time, going through several key centers as well as key changes, and can therefore still be challenging to play.

My humble offering, the etude presented here, is conceived at ballad tempo: quarter note = 70 bpm, so don't let all the 16th notes scare you. I used the Coltrane Changes on the bridge.

For the past several years, I have been writing out "solo" style etudes for several of my students, and I enjoy the process.

While the objective is not necessarily to try and create a masterpiece, composing an etude can help illuminate, also for one's self, chord / scale harmonic relationships of a tune, as well as to create balanced and interesting rhythmic phrases.

So, for whatever it's worth; heah 'tiz!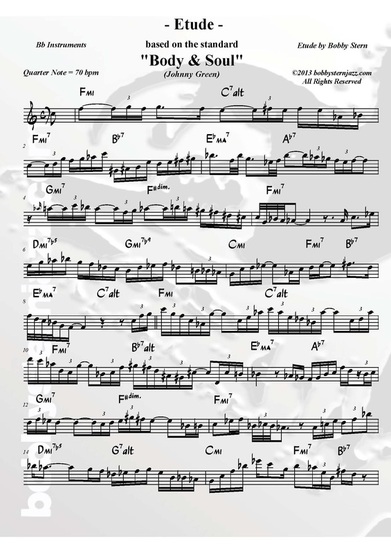 B. Stern