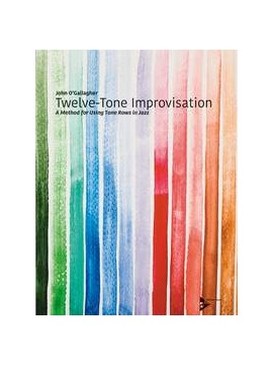 I recently discovered an awesome book by NYC alto saxophonist / composer John O'Gallagher, entitled
"Twelve Tone Improvisation"
(Advance Music) after stumbling upon it via a
Dave Douglas podcast
. O'Gallagher is a monster alto player with a fresh & unique concept. After hearing some of the music from the podcast off of his latest CD "The Anton Webern Project" and how "sophisticatedly funky" it sounded (Anton Webern gets jacked by Ornette meets Sun-Ra meets Bitches Brew), I got so excited I bought both the book & the CD.
Although I've previously had some minimal exposure to twelve tone rows in both composition and improvisation, it wasn't something I had been thinking about lately. However, just the idea itself woke me up enough to realize, "This is something I would definitely love to (and need to) check out!"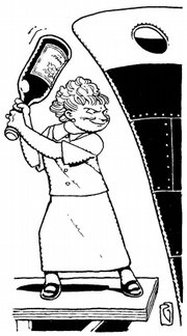 "I christen thee"Super Augmented!"
So I am now in the beginnings of my "Twelve Tone checking out" phase. The first thing to realize about the twelve tone concept is that it's a whole different way of viewing how Western music
is organized. We have been taught, traditionally, how everything is based on and organized around the diatonic Major Scale system and it's alterations.
The twelve tone system, which is like a parallel universe, can exist on it's own or in tandem with the diatonic system, and has a whole different set of rules and terminology, which I am digesting slowly.
One of the basic units that form a twelve tone row is the "trichord", a grouping of three notes, which can be made up of various intervals, and combined with other trichords of the same or complimentary type, to form a 12 tone row, or parts of one. It can also be inverted, transposed and used in different shape combinations.
Recently, before seeing John O'Gallagher's book, I had posted several articles and exercises, dealing with what I termed as "1-2-5"
patterns, a three note grouping (trichord), and combining two of them (hexachord), spaced either a minor 3rd (to express a min 7 11) or a Major 3rd apart (Maj. 7#11).
This trichord which I called "1-2-5
" was based on the position of it's three notes within the Major scale (1-2-5 in C = C-D-G). I came to find out that in twelve tone "set theory" parlance, this trichord is known as 027, each integer representing it's distance, in semitones from the "root", (with the root being "0"), in "prime" or root position. Therefore, C=0, D=2 (half steps from C) and G=7 (half steps from C). John O'Gallagher , in his book, uses a slightly different description key. He calls this trichord 2+5, signifying intervalic distances, in semitones between the three notes (2 half steps from the root C = D, 5 half steps from D = G).
Below is an exercise which I wrote out for myself, based on the first trichord which John discusses in his book in depth, namely 1+2 (or 013)
. Had I not known better, I probably would have called it 3-4-5 (or 7-1-2), basing it off of the Major scale. Whatever it's called, the exercise is based on three 1+2 trichords spaced a Major 3rd apart and connected by a half step. This creates a unique nine tone synthetic scale, which because of it's trichord spacing, contains 3 augmented triads. Because the hexatonic Augmented Scale contains 2 Augmented triads, I will christen this scale as "Super Augmented". I can do that, right?
It actually sounds quite consonant,
much more so than the Augmented Scale, which contains 3 augmented seconds (minor thirds).
Although I haven't done any kind of thorough analysis of it to this point, I have noticed that
:
From the second trichord to the octave, it's an exact Major Bebop scale.
It contains both a tonic Maj. 7th, as well as a tonic min. (Maj. 7) chord, as well as it's complete dominant whole tone scale, creating a potential V7-I cadence.
Because of it's symmetry, and the fact that it divides the octave
into 3 parts, (therefore repeating after the third transposition), I figured it had to be in Slonimsky somewhere. No doubt, there it was on p.28, #184, listed as "Scale of A. Tchrepnin", probably one of Nick Slonimsky's buddies from the old country.
So here it is, with each trichord in it's prime form (root position
, plus rotations 1 & 2 i.e., first and second inversions).
Anyway, it's a study in progress. 2 B continued.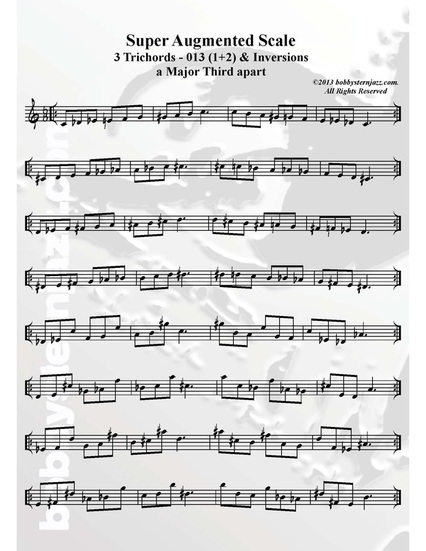 B. Stern