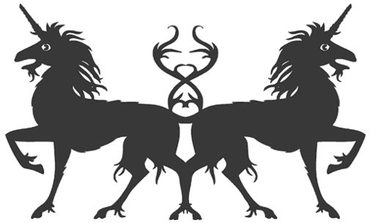 "Stablemates", Benny Golson's classic, written in 1954, is the subject of this etude.

I'd been 'shedding this tune as of late, so I thought I'd slow the process down a bit and write out an etude, which similar to a solo transcription, can be helpful in focusing in on individual elements of a tune.

"Stablemates" is not your "standard" jazz standard, in that its form (36 bars, ABA 14 - 8 - 14) as well as its flow of chord changes, is somewhat unorthodox.

I think that for these reasons, mainly, the tune has remained a challenge to improvisers and has stood the test of time since its inception 60 years ago!

What gets me most about this tune, is its several "minor deceptions". Like, in measure #1 already. The tune is in Eb (tenor key; Db Concert), so judging from bar #2, the original idea might have been to start the tune on the ii chord (F-7). But nooooo!, Mr. Benny! He laid his first trap by raising that ii chord (ii-V7) up a half step.

Then in measure #4, one might reasonably expect the D7alt to resolve to some kind of G chord.

NOT!!

Instead, we get detoured to the ii-V7-I a minor third above, only to be led back around to that Gm (where we thought we were going in the first place) as the first chord of a protracted iii / VI7 / ii /V /I / I in measures 9 thru 14.

Take it to the bridge.

This has to be a toll bridge. The "toll" extracted being the time required in the practice room to be able to negotiate smoothly through the dominant 7th chords here, each lasting one full measure apiece.

The first 4 bars are a kind of backwards Cycle of 4ths, ascending chromatically, in order to come back down chromatically tritone subs) the next 4 bars, the last bar being the V7 of Eb (tenor key). But, hey look out!!

Don't forget that speed bump, the ii-V7 raised a half step in the first measure of the "A" sections, we already talked about.

This is the type of tune which you have to play a lot until you've really internalized it, in order to start
saying something on it.

I changed the title of this etude on page 1, but forgot to do so on page 2. Both are admittedly kind of lame (although the current title does manage to describe the quirkiness of the tune), but don't let that stop you from checking out the etude itself.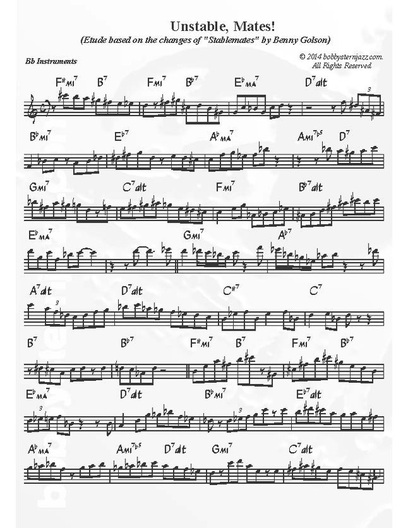 B. Stern