'Trane Fare for Slonimsky - A Diminished
Scale Sequence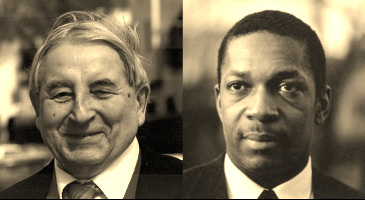 Here's another symmetrical scale exercise.

This time, it's 2 minor 7th chords a tritone apart, a pair of 4 note patterns, which reveal all 8 notes of a diminished scale.

I was sure this pattern, which has its descending version in retrograde of its ascending form (second two measures), was contained somewhere in the depths of Nicolas Slonimsky's "Thesaurus of Scales and Melodic Patterns".

But it wasn't!

Slonimsky (popularly misnomered as Slavinsky, Slaminsky, etc.) was a Russian born composer, pianist, conductor and most notably, author. Probably his biggest claim to fame was his "Thesaurus", which was studied in the late 1950's, by, among others, John Coltrane himself.

This fact has been verified by people who knew 'Trane and worked with him.

The basic premise of the "Thesaurus", is the division of one (or more) octaves into 2, 3, 4 , and sometimes more, parts.

These equal division create basic "cells" which can be filled in with notes within the boundaries (Intra, Ultra & Inrra-Inter-Ultrafpolation, huh?) of those cell groupings, forming short musical phrases which are repeated symmetrically according to the frequency of the octave divisions.

If you are at all serious about this theoretical knowledge stuff, you probably already have the "Thesaurus.

If not, it's a must have!

If you're just a casual observer, you should get it anyway, and make it part of your music book library.

I still have my hard cover copy which I've had since the early '70s which I think is an original printing from 1947, published by Charles Schirmer's Sons. It even smells old.

While I admit I have barely scratched the surface of this books contents, I have grown to understand it's premise in dividing the octave and the scales and harmonic systems that result from it.

Nicolas Slonimsky died in 1995 at 101 years of age. He was revered by many, including Frank Zappa, who he befriended and with whom he performed.

Back to this "Slonimsky-like" diminished scale sequence, it's a 5-1-b3-b7 pattern, which repeats up a tritone. It can be utilized wherever a diminished scale is called for; most commolly, with a dominant 7, (natural) 13 in the chord.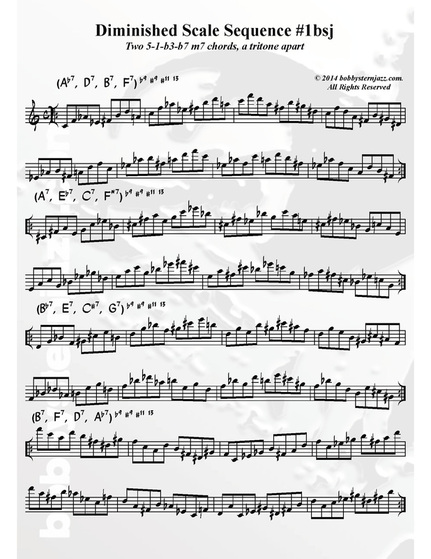 B. Stern