BRANCHER-FRANCE
TSG Tenor Saxophone Play - Test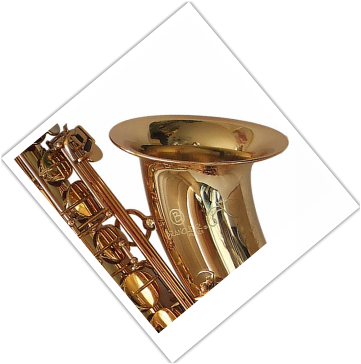 I am taking this opportunity to happily announce here that I am now a proud endorser for
BRANCHER-FRANCE Saxophones.
I had the good fortune of meeting
Msr. Pascal Brancher
, Mr. BRANCHER-FRANCE himself, maker of fine saxophones and accessories, in March 2014 at the Frankfurter Musikmesse (Frankfurt Music Fair).
The Brancher stand was located directly across the isle from the Bari Woodwinds booth, whose Bari Hybrid mouthpiece and synthetic reeds I have been playing exclusively and endorsing for a number of years, going back to the days of the company's founder, the late Wolfe Taninbaum.

So meeting "the Branchers" was kind of like meeting the people next door. I had never even heard of the Brancher brand before this, so I was certainly not familiar with their line of horns.
The short of it is; that after 2 days of checking out all the major (and minor) saxophone names (eg. Cannonball, P. Mauriat, Keilwerth, whom I formerly endorsed, Antigua Winds , Inderbinnen and Yanigasawa), I realized that the theretofore unheard of Brancher tenor, compared favorably in every way to any of the just mentioned names.
First off, the low register response is amazing! The production of sub-tone, in the lower half octave (E - Bb) is like butter.
To that effect, Pascal Brancher explains that, "
The low register response, as well as the rest of the registers, is enhanced & improved by the special "cymbal like" shape of the resonators. Their larger diameters help in that regard as well.
Each horn comes with 2 necks, with either one or two ring markings engraved a the base.

"
Since we started designing saxophones in 2007", says Brancher, "we've made & tested a lot of different necks. At least two of them were really amazing, so we kept them and include them both with each saxophone.
One ring engraved on the neck normally gives more depth of tone. Phrasing & legato are also easier. Two engraved rings normally gives a bit more volume, brightness and bite.

Since we started marketing these horns in 2008, we've had saxophonists who've preferred either or.....so we continue to deliver horns with both."

In my experience with the horn so far, the differences between the two necks are very subtle. For the play-test examples below, I'm using the 1 ring neck.
More info can, of course, be found on the Brancher-France website.

As I consider myself to be a saxophone "player", rather than a sax "tech buff", or "connoisseur collector", etc..(I've tightened a few screws and even changed a pad or two in my day), all this talk about neck rings and shiny pearls and things, might pretty much as well be in Taiwanese to me; which incidentally, as you may already know, is where the basic manufacturing for Brancher-France saxophones is done (with customizing and modifications done at Brancher-France World HQs in
Champforgeuil, France
). Taiwan is also where the manufacturing of every one of the brands mentioned above is done, with the exception of Keilwerth (Germany), Yanagisawa (Japan) and Inderbinnen (Switzerland).
Of course, we cannot forget, "ze good ol' Sel-merrr" (Pah-reee, naturellement)!
So now that we know that Taiwan seems to be the spot, it really
doesn't mean
blip
to me, in this "global NWO" economy, where these horns are manufactured!
The question is:
How do they play? How do they
sound
?
All I can give you here is my own humble offerings via "
aural evidence
" of my actual recordings with the
BRANCHER-FRANCE
TSG tenor saxophone
, which I think is no less than
a spectacular horn
.
Give it a listen. You be the judge!
The demos I present below (click the title links to listen), are from three different
sub-styles, common in a saxophonists repertoire; straight eighths, ballad, and medium tempo swing. All three tunes feature myself on the
Brancher-France TSG Tenor.
The results are a happy combination of the "
Killer B's
",
Brancher, Bari
....and
Bobby!
---
Listen to the
Brancher-France TSG Tenor
Click on the highlighted song links to hear examples. Opens in a new tab / window.
Track 1
- The playback track I'm using here for this demo of
Wes Montgomery's
"Road Song"
is from
Hal Leonard Jazz Play-a-Long Vol. 50
"
Great Jazz Classics
". It features an excellent rhythm section and is a funky, bluesy classic.
---
Track 2
- This is my attempt at unaccompanied solo saxophone (which is a work in progress);
Mal Waldron's
classic ballad "
Soul Eyes
". I used to see Mal all the time back in the day when I lived in Munich, Germany, and at the time, really had no idea about the man's history and accomplishments. This is dedicated to Mal and all the questions I would probably bug him with now.
I used a room mic and tried for the most natural dry sound I could get.
---
Track 3
- The backing track I'm using here for this demo of "
Monk's Dream
" is from
Hal Leonard Jazz Play-a-Long Vol. 90
"
Thelonious Monk Classics
". This is an awesome volume, along with Vol. 91, of Monk classics; especially if you might not have access to a great (or even good) rhythm section, that can play Monk well.
---
So to sum up: I really love this Brancher Tenor. When I first got it, it had a much different "feel" than the Keilwerth SX-90R that I've been playing for the past 18 years. I was concerned that I might have difficulty getting around the horn like I'm used to...but that doesn't seem to be the case, as over time I'm starting to get used to it.

The horn itself has a mellow middle range with overtones of cedar, spice and hay!

Huh!

Oh snap, I thought this was a cigar review!

Smokin'!

---
Brancher TSG Tenor Saxophone - The Video

The audio on this video was recorded solely with my computer's built-in mic. The idea was to capture the natural room ambiance with no additional signal processing.

B. Stern