Unidentified Descending Shape (UDS)
Landing Near You
Origin determined to be from the planet Tritonius Minorus in the Diminished Scale System, according to reports from Deep Space b9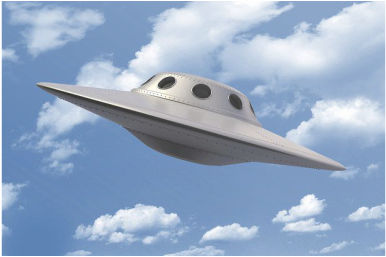 Don't jump out the window just yet...........!
Swap that tricorder for a trichord and check out this supplementary exercise based on my
last post
, which deals with a hexatonic scale comprised of
two minor triads, a tritone apart
(C- & F#-).
As this scale seemed to have been nameless,
for lack of one better I dubbed it the "
Tritone Minor Scale
".
It's close resemblance to it's likewise Diminished Scale offshoot cousin, the more popularly known
"Tritone Scale"
(2
Major Triads
, a tritone apart), confirms its DNA and keeps it in the family.
The descending shape used for this exercise is the same one used on a different scale in an earlier post, and is a hip way to let your fingers run through
the intervallic construction of any scale, regardless of how many notes it contains.
The Tritone Minor scale is broken down in the
last post
, and the breakdown of the descending shape is rehashed here with modifications.
The configuration of the line in the exercise below is a kind of hybrid "Bergonzi Shape" (The eight pentatonic shapes from tenor master/ guru Jerry Bergonzi's book "Vol 2 - Pentatonics"
Advance Music
).
Whereas the Bergonzi shapes utilize 4 note groupings, with a repeating scheme of alternating skip or step motion in an up or down direction, this exercise employs an 8 note, measure long repeating scheme.
This exercise uses
2 lines of 4 measures each; one line for each tritone half of the scale.
Excluding the 3 note pickup, and starting on the downbeat of
measure #1
,
C Tritone Minor
(
C-Db-Eb F#-G-A
, asc.,
C-A-G F#-Eb-Db
, desc.) the scheme is:
(A) Skip down
(
F#
)-
Step down
(
Eb
)-
Skip up
(
G
)-
Step down
- /
(Skip G) (Skip F#)
(
F#
)
Skip down
(
Db
) -
Step up
(
Eb
) -
Skip up
(
G
) -
Step down
(
F#
next measure)
(Skip Eb) (Skip F#)
And the scheme pattern repeats itself each measure.
An interesting point to notice is that, including the pickup, the first note of each measure of the first line (F#-A-F#-Db-A), combined, spells out (enharmonically) an F# minor triad, which comprises half of this hexatonic scale.

In line two, which employs the exact same scheme pattern and is transposed up one Tritone Minor diatonic scale step, the first notes of each measure combines to make up a C minor triad (G-C-G-Eb-C), which is , of course the other half of C Tritone Minor, which is the same as.....you guessed it: F# Tritone Minor.

Ok, now you can beam me up, Squatty!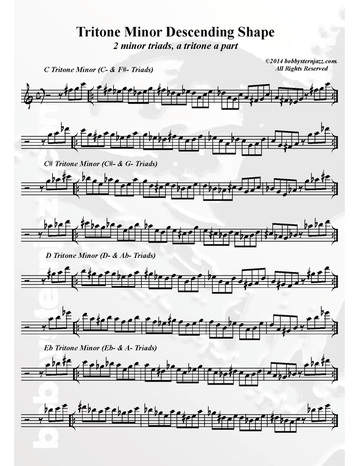 B.Stern