Be-Boppin' the Harmonic Major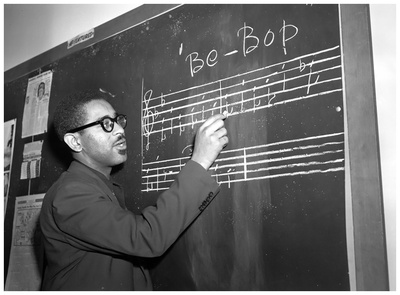 As I've been recently treating the Harmonic Major scale like a new found toy, I've discovered, for myself at least, some of the unique and interesting qualities of this "hidden in plain sight" seven note harmonic system.
The practice of adding a non-diatonic passing tone to the Major, as well as the Melodic & Harmonic Minor Scales and their modes began as the "eighth note" became the basic rhythmic pulse unit of the music called "BeBop", and became known at some point as the "
BeBop Scale
"


I think it
was David Baker who first "bopularized" the term.
In order to create an even 8 count of eighth notes trom the original 7 note scale and allow a melodic line to flow and resolve evenly through measures of 4/4, a passing tone was strategically added, the location depending on the mode used, allowing the chord tones to fall on downbeats (and vice versa), for the most part.
So, with that in mind, I was curious to see how one might "Bebop-a-size" the modes of Harmonic Major.
Right off the bat, I hit a slight snag.
Because the "backbone" of Harmonic Major, like its Minor cousin, is essentially a diminished 7th chord (4 of its 7 scale tones; in C = D-F-Ab-B. built on scale steps 2-4-b6-7), the scale has an inherently dominant feel and resolution possibilities. The other 3 scale tones form its tonic C Maj triad (C-E-G), which, of course, also happens to be one of those resolution possibilities.

So what does all this mean as far as "BeBoppin'" this scale is concerned.

First of all, the unofficial "rules" of BeBop Scale creation state that a passing tone be placed between scale steps 5 & 6 for a Maj scale type. In this case, that would mean add an Ab between G & A. But...

In C Harmonic Major. an Ab is already sitting there laughing at you. So, anything between scale steps 5 & 6 is out of the question. In checking the interval scheme of Harmonic Major, we find that the make-uo is:

C - D - E - F G - Ab - B - C
W W H W H 1 1/2 H

This is the first mode, the tonic mode of C Harmonic Major, known as C Ionian b6. It's diatonic 7th chord, built in thirds is C - E - G - B, which your garden variety C Maj 7, and which is what we'll try to express here with our "BeBopitated" scale creation.

This gives us really only three places to insert a chromatic passing tone: between scale steps 1 & 2
(C & D), 2 & 3 (D & E), and 4 & 5 (F & G ). We'll look at the augmented 2nd between b6 & 7 (Ab & B) in a bit.

Adding a passing tone between 1 & 2 (C & D) gives us:
C - C# - D - E F - G - Ab - B / C
+
It sounds pretty good, right? It gets us to where we want to go, which is the octve C on the first downbeat of the next measure. Cool! The only thing is: the chord tones, aside from the root C, are all not on downbeats (bold). The chord tones (C-D-F-Ab) tell us that it would be expressing a D-7b5 more so than a C Maj7.

While it may not be in the official "BeBop Scale Rule Book", it's still a totally usable scale. Put it in your pocket.

Likewise with our next choice, a passing tone between scale steps 2 & 3 (D & E):
C - D - D# - E F - G - Ab - B / C
+
Sounds real nice, with a blues scale element. But seems like it wants to say F-7 (C-D#-F-Ab). Great! Never met one I didn't like. Put that one in your other pocket! C Maj7 please!

Our third and final attempt, a passing tone between scale steps 4 & 5 (F & G), is my choice; but not without a few compromises.
C - D` - E - F F# - G - Ab - B / C
+
The chord tones don't all fall on downbeats (C-E-F#-G#), but the root and 3rd do, so the Major quality is at least accented. This example differs from the others, in that the passing tone, F#, actually falls on a downbeat. The F# isn't even diatonic to the scale!

I can only justify that by saying, that from a theoretical standpoint, the F# could function as a #11, which is usually a pretty good note choice on a Maj7 chord. The Ab is the b6 (or b13) which happens to be the note that has been altered from Major in the first place, and which is the note element that gives Harmonic Major it's distinctive flavor.

You'll notice on the accompanying PDF file, however, that I only use the F# passing tone ascending the scale. The descending version uses the Db passing tone, from choice #1.

Why? 'Cause I like it!

So on those grounds, I think I deserve a stay of execution from the "BeBop Scale Rules Committee". don't you?

Plus, the overriding Law of the Musical Universe, originally brought down from the mountain and first uttered to the masses by Duke himself (Edward Kennedy Ellington, that is), who said,

"If it sounds good and it feels good, then it is good!"

Amen to that, your Dukeshipness!

The other 6 modes of the scale follow the same basic plan. Mode ii (Dorian b5) is the only other mode that uses a different passing tone in each direction.

Getting back to the augmented 2nd between scale steps b6 & 7 (Ab & B), I find it hard to justify a "passing tone" here (either A or Bb) because it wouldn't even function as a passing tone at all. Adding an "A" would just make it a regular C Maj BeBop Scale, with the "A" becoming the scale tone and the "Ab" the passing tone.

Adding a "Bb" would make the scale more of a C Mixolydian b6 (5th Mode of F Melodic Minor), which would in effect turn the "B "into the passing tone and the "Bb" the scale tone. So, I don't know if I'd buy that one.

Anyway, these are only my suggestions. They sound and feel good to me. Besides, I really haven't seen or heard a wealth of information on the subject.

May it sound & feel good to you,too. Go thee forth and "Bopulate".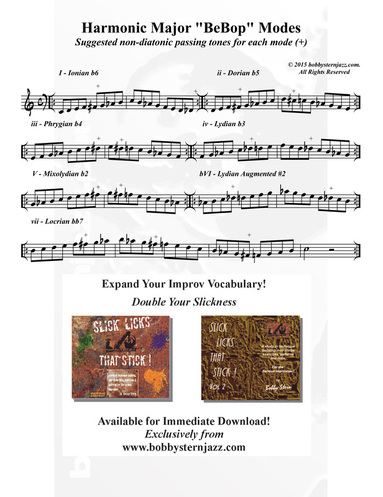 B. Stern