A Plus in Your Scale Arsenal: Augmented Scale ii-V7-I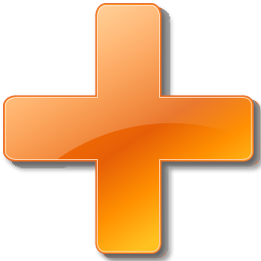 This is the latest post in the
Augmented Scale
category
, this time with an exercise that negotiates a common ii-V7-I with a single augmented scale, which is:
A six note scale (hexatonic), formed by:
2 augmented triads a minor third apart (C-E-G# & Eb-G-B = C-Eb-E-G-Ab-B)

2 augmented triads a half step apart (C-E-G# & Db-F-A =
C-Db-E-F-G#-A)

A Major triad and a minor triad a Maj 3rd below (C-E-G & Ab-B-Eb = C-Eb-E-G-Ab-B)

A minor triad and a Major triad a Maj 3rd above (C-Eb-G & E-G#-B = C-Eb-E-G-Ab-B)

3 min 2nds a Maj 3rd apart (C-Db, E-F, G#-A)

3 min 3rds a Maj 3rd apart (C-Eb, E-G, Ab-B)
There are also Perfect 4ths and 5ths, as well as Maj & min 6ths, plus Maj 7ths included.

Check 'em out.
This exercise came about as an altered, Augmented scale version of the typical 1-2-3-5 or 1-2-3-4 type major scale "digital" scale patterns, made up here exclusively of scale tones from a single Augmented scale, over a ii-V7-I chord sequence.

One of the more interesting (and challenging) aspects of using the Augmented scale in this manner is the fact that the Augmented scale has no tritone (eg, F - B), which makes its tendencies toward normal resolution (as in Major or minor scale harmony) somewhat ambiguous.

But hey, ambiguous is good in this case; as in "inside-outside" and vice versa.

The Breakdown:

The whole first line uses the Bb (D, F#) Augmented Scale (Bb-C#-D-F-Gb-A) over
C-7b5 / F7 / Bb / Bb /

Line #1, Measure #1 - C7b5 (Parts of the chord in parenthesis):
D (9) - F (11) - Gb (b5) - Bb (b7) A (6) - Bb (b7) - D (9) - F (11).

Pretty consonant (inside), actually.

Line #1, Measure #2 - F7sus:

C# (#5) - D (13) - F# (b9) - Bb (11) - A (3) - Gb (b9) - Db (b13) - F (root).

As mentioned previously, the Augmented scale is devoid of tritones, but melodically, in this case, it still pulls toward a resolution to Bb; with the root and 3rd of the V chord being present. The Bb in the scale also supports this.

Line #1, Measures #3 & 4 - Bb Maj7

A straight up Bb Maj7 with a C# (#9 or b3) and Gb (b13 or #5) thrown in for flavor.

As the Augmented scale divides the octave into 3 equal parts, the result is 4 different Augmented scales. The exercise is transposed by ascending half steps into all 12 positions (keys), the basic scale repeating every 5th line (ie. line #1 & line #5 are from the same Augmented scale).

If you have a sequencer (Band in a Box, iReal), try practicing first with just the bass notes or bass line, then add shell voicings (3rds and 7ths).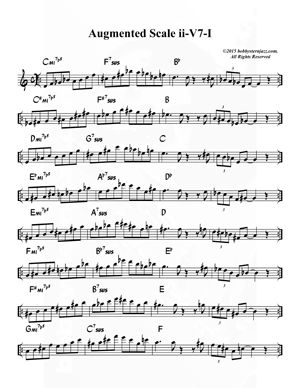 Want more Augmented Scale ii-Vs? Check out this Shortbook™: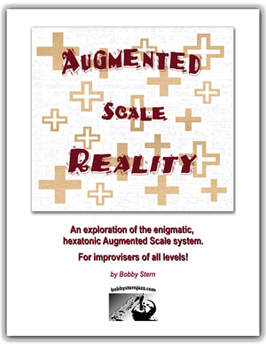 B. Stern