Slide, Glide & ACE a Ride (on the Wild Side)
With This Penta Flat-6 Two Five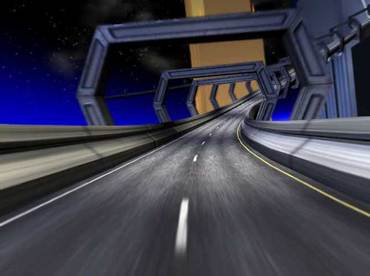 In automotive terms, a flat-6 is a six cylinder, horizontally opposed engine used by Porsche, among others.

Since automotives is not really my thing, the flat-6 (b6) referred to here is none other than an old "5 cylinder" friend and Melodic Minor derivative, the Pentatonic b6.

As explained in several previous posts on the topic, The Penta b6 can be thought of either as a Maj. Pentatonic with a flatted 6th degree from the root (ie. C Pentatonic b6 = C-D-E-G-Ab), or; as being built from the 5th-6th-7th-9th-b3rd scale degrees of F Melodic Minor, in this case.

It can also be built simply from scale steps 1-2-3-5-b6 of the Harmonic Major Scale, but it's the Melodic Minor derivation that we'll be dealing with here.

This exercise is the latest of
several posts
which deal with the Pentatonic b6 as applied over a 4 bar,
minor ii-V7-i
cadence, using the "
ACE
" three Melodic Minor "scale / key" approach.
"ACE" refers here to the 3 different Melodic Minor keys used in a 4 bar minor ii-V-i resolving to E min. (ii: F#-7b5 / V: B7alt /i: E- / E-), where:
F#-7b5 =
A
Melodic Minor
/
B7alt =
C
Melodic Minor
/
E-
= E
Melodic Minor
(see the next to last line (#11) of the downloadable exercise).
Since Melodic Minor has no "avoid notes", we can therefore use any combination of notes from that Melodic Minor scale / key, including any of its native pentatonics.

In this case, getting back to line #11, the three Pentatonic b6s used for the ii-V7-i would be:
F#-7b5 =
A
Melodic Minor =
E Penta b6
(E-F#-G#-B-C)
B7alt =
C
Melodic Minor =
G Penta b6
(G-A-B-D-Eb)
E-
= E
Melodic Minor =
B Penta b6
(B-C#-D#-F#-G)
The "ACE" acronym, referring to the applicable Melodic Minor scale / keys, is cool because it spells an identifiable word, at least in this particular key.

However in all cases, the letters used spell out the notes of a minor triad a perfect 4th above the tonic minor (i) key. (eg. A-C-E for the roots of the scale /keys and E-G-B - the actual letters of the tonic (home key) minor triad - for the roots of the applicable Penta b6s).

As a further exercise, label each measure of the downloadable PDF with its appropriate Melodic Minor scale as well as its Pentatonic b6.

The first measure of each line is actually missing a single scale tone from being a true Penta b6. Can you find the missing note in each case?

Is there an appreciable difference in sonority, with and without?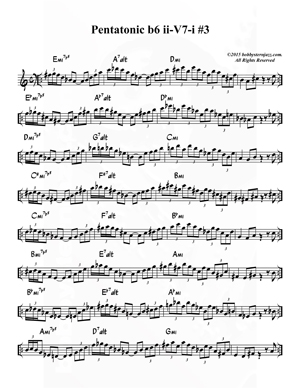 Check out is SSL safe and secure through my E-Junkie Store and PayPal.

B. Stern