Back to the Future 'Trane
Transcription of John Coltrane's 1954 Solo on "In a Mellow Tone"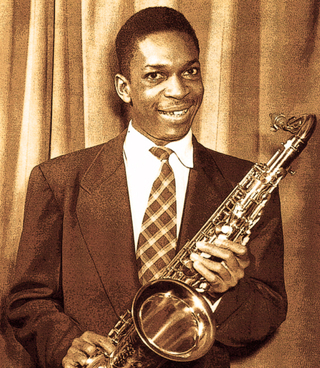 This transcription of the
first chorus
of John Coltrane's tenor solo on Duke Ellington's "
In a Mellow Tone
", was taken from a live (possibly radio) recording from sometime in mid 1954, when 'Trane was on the road with
Johnny Hodges'
septet. The band included Hodges' fellow Ellingtonians, Harold "Shorty" Baker - trumpet, and Lawrence Brown on trombone.
This version of "Mellotone" was originally released, to my knowledge, in on a "bootleg" vinyl in the 1970's on the "Enigma" label. A friend of mine had it and I promptly copied it to cassette (remember those?.....OK, maybe not).

Then as now, 'Trane's solo here blew me away for several reasons.

First of all, through this recording, we get a glimpse of a 27 year old John Coltrane, who was still a little more than a year away from the start of his historical association with trumpeter Miles Davis. In the second chorus of this solo, which is not transcribed here, we hear a portent of things to come; i.e. sixteenth note scalar runs, which he seemed to be hearing as if from a distance, but didn't quite have the concept, which we would later know as "sheets of sound", under his complete control yet.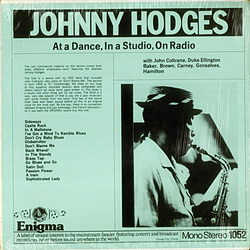 The first thing that should be apparent to anyone listening to this recording is: "Ain't no bebop bein' played here!". The rhythmic pulse of this music is of the Ellington and Armstrong era: quarter note bounce; swinging and danceable.
Coltrane, who almost certainly grew up hearing Ellington's music, and so was intimately familiar with it, was originally a Charlie Parker inspired alto saxophonist, switching to tenor more or less for good in 1949 or '50, while as a member of the big bands and small groups of one of bebop's co-founders', Dizzy Gillespie.
So it's like pre-Bird meets post-Bird; and in the middle.....no-Bird!
Also importantly, leading up to his tenure with Hodges, 'Trane was the tenor saxophonist with popular Rhythm & Blues (the original R 'n' B) saxophonist,
Earl Bostic
, for which Coltrane had great respect.
The saxophone, alto and tenor, was the main solo instrument in R 'n' B and pop music, before the advent and popularity of the electric guitar in the next decade. This is notable because 1950s R & B is in unmistakeable evidence in Coltrane's approach here.
So it's against this backdrop that Coltrane's solo on "In a Mellotone" takes place.
Coltrane takes the third solo, behind Hodges and Shorty Baker. Both solo's are swing era in style and content; Hodges' typically lithe and bouncy and Baker hitting you with his melodic and rhythmic inventiveness, blues, growl and a timely placed quote from Khachaturian's,
"The Sabre Dance"
.
Enter Coltrane, who comes on like the "Tenor Player Who Fell to Earth"; heralding things to come. The first thing you notice, as always, is his presence. His sound is big and robust with his familiar edge; evident even though the recording quality is less than one might be used to by today's standards. Also evident is his typical sense of urgency and insistency in his phrases.
His vocal sounding "hoy, hoy"
on the "high G" of the tenor saxophone in bars 12 and 13 induce the shivers.
For me, the beauty of this chorus is in its relative simplicity
and in the way 'Trane outlines each chord change. Then there are, of course, the intangibles (tone, nuance, etc.) that made anything Coltrane did greater than the sum of its parts.
I think they call that "soul".
This is a very singable chorus and not
that technically challenging. It's a fun solo to memorize, study and try to emulate. It's taught me how certain basic chordal structures can sound really great in the right context.
It's also fun to realize that this is the same guy who, less than 5 years later, gave the world "Giant Steps", and then "A Love Supreme" some 5 years after that.


"Interstellar Space", anyone?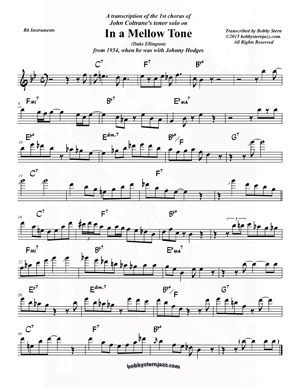 This video is of the complete album. "In a Mellotone" starts at ca. 9:13
Coltrane's solo starts at ca. 13:10

B. Stern