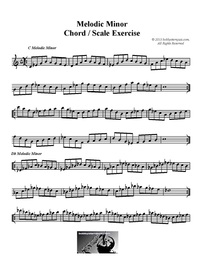 Click for Larger Image
I'm beginning to think that I've been giving Melodic Minor (MM, to close friends), a bad rap, calling it "Major's Evil Twin". It's not really "evil" at all. In fact, it's pretty sweet when you get to know it well.
So, in line with my statement in
Part 2
about getting "intimately familiar" with MM's modes and chord types, I thought it might be helpful to some of you to post this basic Melodic Minor Chord / Scale exercise in all 12 keys. As the name suggests, you start on the root, play an arpeggiated seventh chord up, then a scale down to the root of the next diatonic chord, and continue that pattern throughout the range of your instrument. Then reverse the process: chord down, scale up.
There's nothing really slick about this exercise, but it's a very
effective way to get the fundamentals of MM (or any scale) under your control.
Download 6 page pdf









B. Stern


If it's "slick" you want, however, then check out

"Slick Licks That Stick!"

by Bobby Stern (who dat?)

,

a 177 page PDF eBook that's got a ton of tasty MM stuff in it.

Check Out
Part 4