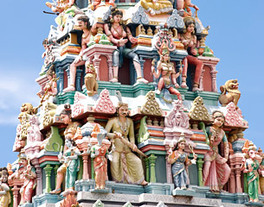 I thought I'd do another Melakarta post, this time featuring
#18 - Hatakambari
. If you're not hip to what a Melakarta is, then please check out my post from June 7th, 2013 entitled
"Korner Karnataka #2 - Melakarta #15, Double Harm. Maj. & Graha Bedham"
, where a complete set of mp3 drone pitches can be downloaded, to facilitate in practicing these scales.
The Melakarta presented here, is related to #15 in that they are from the same "chakra", or group of six, and share the same lower tetrachord.
In fact, the only difference between the two is the sixth step, or "da", of #18 being raised two semitones from D1 to D3, or in the key of C, from G# to A#. This scale could also be seen as "Ionian b2, #6", in western terms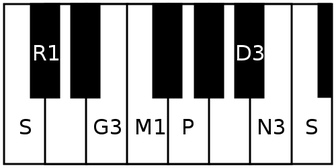 If we start this scale on it's 3rd degree, or "E", and using that as the root, we create another established Melakarta, #43 - Gavambhodi, by a process known as
Graha Bedham
, which literally means "position change", referring to changing the position of the root or drone. This process is similar to playing the modes of the Major scale, where the pitches stay the same, but the root changes; thereby setting up a different set of tensions, relative to the root, for the ear to hear.
The PDF presented here is of Mela #18 in 12 keys. Sorry about all the double sharps, but I didn't want to double up on any note names. There are a few selected chord / scale exercises plus several melodic phrases which I thought sounded pretty good, written out in "C" only.
So once again, in the spirit of experimentation and good will among all man (and women) kind; have a ball!
B. Stern