251 Measure Relay - ii-V7-i Penta b6
Speed & Agility Exercise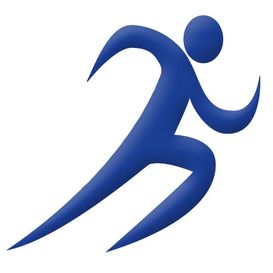 Coming on the heels of
last week's post
, this speed & agility exercise starts out with the same Pentatonic b6 configuration, this time over a 4 bar minor ii-V7-i cadence; using a different Penta b6 for each chord; albeit from a common tone.
As with the previous exercise, this one is designed not only for speed & agility; but also to sharpen your ears and your brain; and to facilitate, ultimately, the ability to start an idea from any note

Once again, memorization through the 12 keys is the goal here.

As with previous exercises here dealing with the Melodic Minor ii-V7-i progression, a different Melodic Minor scale is related to each of the three chords.

The derived b6 pentatonics from these three unique Melodic Minor scales have a single common tone between them, and it is from this "X-Centric" vantage point that we will begin our exploration.

Starting on Line 1, Measure #1, as our ii chord (C-7b5) we have the exact same 5 note, Penta b6 configuration as last time; descending from F, which is the 4th scale degree of Bb Pentatonic b6
(Bb-C-D-F-Gb; again, not to be confused with F as the fifth, both intervalically and as the 5th scale degree of Bb maj / min), which in turn is derived from the key of Eb Melodic Minor (all of these relationships are labeled.....isn't that nice?!).

The first 5 notes of the first measure Bb Pentatonic b6, as they are (F-D-C-Bb-Gb), provide us with the 11 - 9 - root - b7 & b5 of C-7b5, our ii chord.

Play this over a C in the bass to hear the effect.

In Measure #2, our V7, in this case an F7alt descending again from common tone F, the 5 note configuration spells F-Eb-Db-A-Ab, which forms a descending Db Pentatonic b6, (derived from Gb Melodic Minor) starting on it's 3rd scale degree. In terms of the F7alt (V7) chord, we're looking at: Root - b7 -b13 - 3 -#9.

Playing this over the root F in the bass will give you the full effect. Notice especially, the change in sonority, as well as the tension created, when going from measure #1 to #2. The F stays the same, but everything else changes around it.

The 5 note configuration in Measures #3 & #4 makes up an F Pentatonic b6 (F-Db-C-A-G), descending from it's root (F again, our common tone), and is derived from the key of Bb Melodic Minor, which generates our tonic minor i chord (Bb min).

The Bb min chord elements found here are: 5th - b3 - 9 - 7 & 6. The root, Bb, is in the bass.

Again, notice the effect, as V7 "resolves" to i. All three pentatonic configurations contain a considerable degree of tension, creating a "rich" texture.

Spicy meatball, anyone?


As with the exercise from the previous post, play these lines, if necessary, in a range or octave that's comfortable for you on your instrument. Memorization and technical facility, not sight reading, is the goal here.

Download PDF
Treble Clef
Bass Clef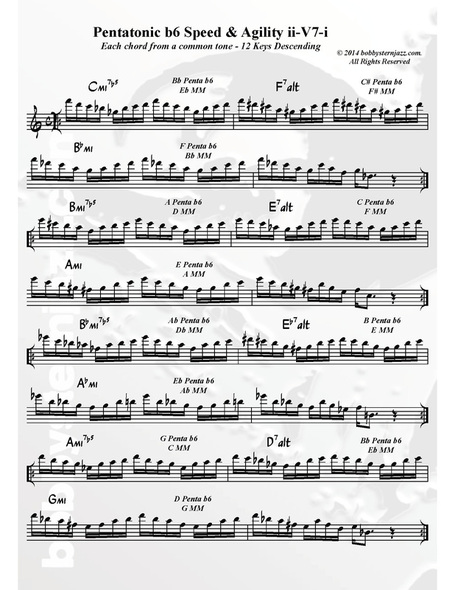 B. Stern