Riding the wave of innovation pioneered by Jimmy Smith and the resulting popularity of the Hammond B-3 electric organ, B-3 organ groups soon sprang up like mushrooms in bars and lounges all across urban America during the late 1950's and throughout the next decade.

By the early 1960's, as organ / tenor saxophone groups were approaching the peak of their popularity, the best of the rest of these groups was the one led by the husband & wife team of tenor saxophonist Stanley Turrentine and organist Shirley Scott.

As a team they recorded 14 albums (not counting reissues) from 1961 through '68, for record labels Prestige, Blue Note, Impulse and Atlantic. During that period, they each also made numerous recordings on their own.
If they didn't invent the organ / tenor sax combo, they certainly played a major role in it's refinement. The Scott -Turrentine legacy is one deeply steeped in the blues, gospel, hard swinging bebop and dripping with soul. And even though, in retrospect, neither would likely be considered a strict musical innovator, as individuals they were both highly influential stylists on their respective axes.

Stanley's sound became one of the most unique and recognizable voices on the tenor saxophone. He was the link between the early rhythm & blues tenor pioneers such as Illinois Jacquet, and the subsequent line of so called soul / pop / smooth jazz saxophone stylists such as Grover Washington, up to and including Kirk Whalum and Kenny G (and just about everyone else).

Turrentine hailed from Pittsburgh; the Hill District to be exact. Besides being the birthplace of a number of other jazz legends (George Benson, Art Blakey, Kenny Clarke, et al), this part of town was also known for being the home of the Crawford Grill. "The Grill" was founded by Gus Greenlee, a numbers racketeer, who at the time of Stanley's birth in 1934, also owned one of the all-time great Negro League baseball teams, the Pittsburgh Crawfords. The Grill also became a major jazz venue. It has since been reincarnated several times through the years and is in existence today.

If Jimmy Smith was deservedly crowned "King of the Organ", Shirley Scott was without a doubt it's rightful Queen. She was a powerful, hard swinging, funky, blues, gospel & bebop inspired soloist, but it's her subtle, sensitive "comping" on these sides behind her husband's tenor that really makes the ensemble happen.

Shirley Scott was born the same year as Stanley, in 1934, to a musical family and brought up in Philadelphia. She received her masters degree from Cheney University, which is the oldest of the Historically Black Colleges and Universities in America. She also taught there in the early 1990's.

Already an accomplished pianist, she got in on the ground floor of the B-3 revolution in her native Philley. Beginning in 1955, she established her reputation while a member of boss tenor man Eddie "Lockjaw" Davis' group, with whom she recorded about a dozen albums, and who's group she was part of for the next four years before marrying Stanley Turrentine in 1960; a marriage between a Queen and a Giant.


However, for all the notoriety and available work their reputations brought, the road traveled was a rugged one. As Mr. T recalled in a 1977 interview: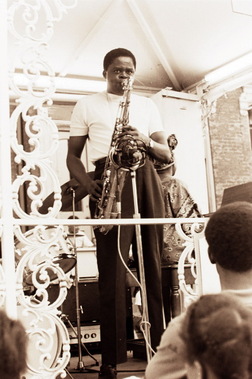 "We called it the 'Chitlins Circuit.' A lot of small places, with bad sound systems, small audiences . . . We used to deadhead a lot. Twice we drove to the coast in three days, New York to L.A., eating in the car, sleeping in the car, with the organ in a little trailer in the back.

You'd get there to the gig and for days you'd still feel like you're still riding. It's funny now; it wasn't so funny then. We'd get to clubs where the hallways were too narrow for the organ, and once in Virginia, we had to carry the organ up three flights of fire escapes. But for all that, we'd go in that night and we'd blow our hearts out."

To have been present at one of these venues and to have experienced Stanley and Shirley blowing their hearts out must have been something else!

A glimpse of that experience lives on the form of their only live recording together. Almost all of it is available on "Shirley Scott - Queen of the Organ" (see graphic above). Several tracks were also released on the CD "Priceless Jazz", containing cuts from several of their previous Impulse LPs (last graphic above). It was recorded at "The Front Room", in Newark, NJ, December 5, 1964 in front of what sounds to be a small, laid back but attentive crowd. The quartet, which includes bassist Bob Cranshaw (he's everywhere!) and drummer Otis "Candy" Finch, groove effortlessly throughout.

The uptempo "Just in Time" is a tap dance, with sparks flying briefly on the short out vamp, as Stanley electrifies the crowd.

As the title implies, Duke Ellington's "Squeeze Me (But Don't Tease Me)" is a slow sway & finger popper, with soulful, blues-dipped statements from our heroes as Cranshaw & Finch lay down a tasty groove.

"Mean, Angry, Nasty and Lowdown" hardly needs an explanation. If you guessed it was a down & dirty blues in the key of G, you get a gold star. Stanley played in G (tenor saxophone key A) often, especially on a blues, so he could pop his high A, pretty much the top of his range.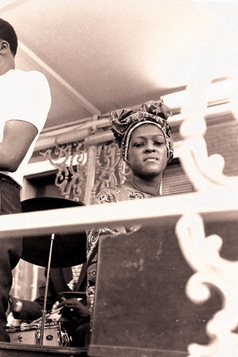 `````````````````````````````````````````````````````````````````````````````````````````````````````````````````````````````````````````````````````````````````````````````````````````````````````````````````````````````````````````````````````````````````````````````````````````````````````````````````````````````````````````````````````````Remember, this is 1964, the year the Beatles debuted in the USA on the Ed Sullivan Show. It was also the year Motown first crossed over into the pop charts. Times, they were a-changein'. "Can't Buy Me Love" one of the Beatles' many chart toppers from 1964 and a then current pop hit, is given the Scott-Turrentine treatment, a swingingly funky 12 bar blues for 2 choruses plus an eight bar bridge. Enough to tickle Yoko's Ono. No?

"Like Blue" is another medium tempo soulful blues, with Stanley preaching and Shirley punctuating his tenor statements as only a soulmate can. She adds her own moments of truth as well, as Finch & Cranshaw bounce along in support.

Neil Hefti's "Cute" once again shows off Shirley's awesome comping skills behind Stanley. She's pushing and prodding behind his solo with mostly short, punctuated chords, never getting in his way and anticipating his phrases as if she could hear his thoughts (and he hers).

"Rapid Shave" (see first video below) is a medium uptempo, cleverly modified blues, 24 bars long. Vintage Stanley here. Shirley gets a holler from the crowd as "Candy Man" Finch swings his ass off.

The Rogers & Hammerstein ditty "That's for Me" gets the medium bounce treatment here, as Stanley blows with his typically unfettered soulfulness, cutting through the changes like a hot knife through butter. Queen Shirley then gives up some "Mairzy Doats" quotes.
``````````````````````````````````````````````````````````````````````````````````````````````````````````````````````````
You were there!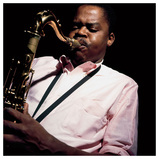 As the 1960's was a decade of intense change in the U.S and around the world, musical tastes and styles, as well as the music industry itself, changed accordingly. Acoustic jazz slowly gave way to pop, rock and fusion. The Fender Rhodes & heavily amped guitars became the instruments of choice. Major jazz labels, such as Blue Note, slowly faded away, as did, for the most part, the organ combo.

As all good things must come to an end eventually, Stanley Turrentine and Shirley Scott parted ways, both professionally and as a married couple, as the decade came to a close. Stanley went on to have a very long and successful career beginning with his 1970 recording of "Sugar" for Creed Taylor's CTI label (A precursor to "Sugar" was recorded with Shirley as the title track of his 1966 album "Let it Go"). He was still going strong up until his death in 2000.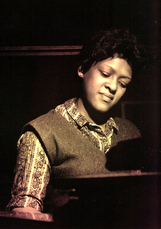 Shirley, subsequently, made some very good records, starting with "Shirley Scott & the Soul Saxes" in 1969 and "One for Me" in 1974 with Harold Vick on tenor and drummer Billy Higgins. But due to the decline in the popularity of the Hammond, she didn't record all that frequently. She made a brief comeback in the 1990's, before falling seriously ill due to heart problems brought on by her use of the diet drug Fen-phen, which has since been banned. In 2000, she was awarded $8 million in a settlement against the drug's manufacturer. She passed away in 2002.

They both live on.

B. Stern
---
---