A Perfect Fourth Story - Ch. 2:
Melodic Minor 4th Shape ii-V7-i Application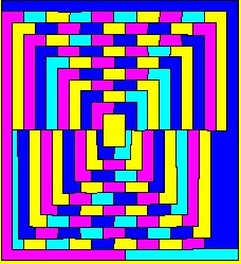 Judging from the title, this post is a follow up to
last week's
, with some ideas on how one could apply these particular Melodic Minor 4th shapes in a ii-V7-i situation; at least in theory.
What I've done here was to copy one of the single measure shape patterns from a particular MM scale for the ii7b5, and another one from the MM scale a minor 3rd above it for the V7alt, but not from the same identical scale degree, so that while the shape remains the same, the pattern's interval makeup is slightly different.

A common Melodic Minor device is that whatever you play on the ii7b5, you can transpose that same phrase up a minor 3rd as a parallel sequence for the V7alt and it should sound pretty cool, right?

Eg: Line 1, measure #1 of last week's exercise: D-G-C-G Ab-D-G-E = D-7b5 (from the 6th scale degree of F Melodic Minor).

Now drop down to Line 7, measure#1: F-Bb-Eb-Bb B-F-Bb-G = G7alt (7th scale degree of Ab Melodic Minor, up a min. 3rd from F, although the pattern begins on the 6th of Ab MM).

Now that you've gotten this "up a minor 3rd thing" digested, please be informed that we'll be avoiding it like the plague this time!

Besides, there's enough of that stuff in the
Melodic Minor Handbook
.
So, for the new exercise example below, instead of using the 8 note phrase from Line 7, measure #1 (of the previous exercise), we'll use the phrase from measure #2 of that line (G-B-F-B Db-G-B-Ab), and plug it in as our G7alt (from seventh degree of Ab Melodic Minor). The point here is, that while the derivative MM scales are still a min 3rd apart, the phrases themselves are not transposed carbon copies.

The ii7b5-V7alt can resolve to Major as well as minor, but for this exercise, we'll stick with minor, as it gives us an another Melodic Minor shape to mess with. The tonic C min chord is likewise derived from the various scale degrees of............C Melodic Minor.

Each subsequent line contains the same shape applied to a ii7b5-V7alt-i in C min, built in combinations from different scale degrees of F, Ab and C Melodic Minor.

A note about the last 2 lines: As there are only 2 notes
(
F & G)
common to the three previously mentioned Melodic Minor scales, these two lines are built with each of the first 3 measures starting from F & G, respectively.
Try out your own combinations. Experiment!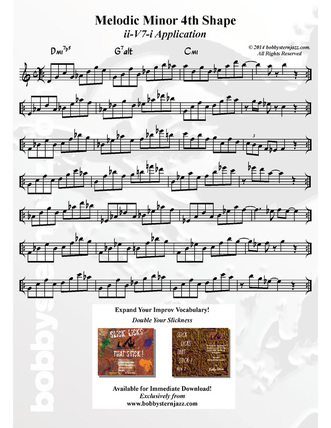 B. Stern