A Perfect Fourth Story:
Melodic Minor 4th Shape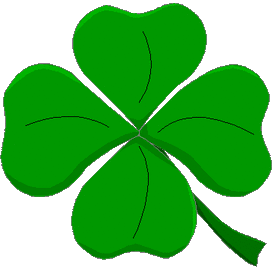 The interval of a perfect 4th, being an inverted perfect 5th (the 2nd
harmonic overtone
in the
natural overtone series
), is predominant, both melodically as well harmonically (where harmony exists), in all types and styles of music on Planet Earth.
Traditionally, western music
is based on a series (cycle) of 12 consecutive perfect 4ths (5ths) i.e.: (
C-F-Bb-Eb-Ab-Db-Gb-B-E-A-D-G
), which when juxtaposed to create a row of 12 equidistant semi-tones (
C-Db-D-Eb-E-F-Gb-G-Ab-A-Bb-B
) becomes known, of course, as the Chromatic Scale.

It's from this Chromatic Scale that we commonly draw our 7 note Major Scale matrix based on the interval scheme of:

Whole Step/ Whole Step/ Half Step/ Whole Step/ Whole Step Whole Step/ Half Step. (C-D-E-F-G-A-B = C Major).

But you already knew that, right?

Or, we can take a series of 6 consecutive perfect 4ths (eg. B-E-A-D-G-C-F), and we have the same 7 notes of that same C Maj. scale.

We can even drop the first and last notes (B & F), which create a tritone, and that'll give us a good ol' C Maj Pentatonic Scale (C-D-E-G-A).

Smashing! Wouldn't you agree?!

It's only when we bust up that plan by messing with the note E (
the hallowed
Maj. 3rd
); altering it down a half step, (making it an
Eb
and a
min. 3rd
), that we enter the dark netherworld of C
Melodic Minor
....
And then the
real fun begins!
So now our perfect little cycle of perfect 4ths really isn't so perfect, after all, as that 7 note series of consecutive 4ths now says (B-Eb-A-D-G-C-F = C Melodic Minor), with B - Eb being a diminished 4th (sounding like a Maj. 3rd) and Eb - A being an augmented 4th (diminished 5th or tritone). As you probably know, a Melodic Minor scale contains 2 tritones, 4 perfect 4ths and 1 diminished 4th (Maj. 3rd).

So what?!

(Actually, I really didn't have that tune in mind.)

The exercise below consists mainly of the interval of a 4th (perfect or otherwise) plus Maj & min 2nds and 3rds as well.

It's based on a pretty common Major pentatonic lick in 4ths, with a repeating pivot note (D-G-C-G A-D-G-E = C Maj. Pentatonic). This configuration happens twice more in a Maj. scale: G-C-F-C D-G-C-A (= F Maj. Pentatonic) and A-D-G-D E-A-D-B (= G Maj. Pentatonic).

That was the C Major Scale. We've already altered it to C Melodic Minor, remember?

I wanted to see what it would look, sound and feel like if I built this lick on each step of the Melodic Minor scale. The shape and interval integrity is the same, but the sound is something else, as would be expected.

As there are "no avoid" notes in Melodic Minor, it creates interesting alternatives to the "ordinary". It doesn't immediately sit so comfortably in the fingers, so it needs to be worked on to gain better familiarity.

Each key is labeled with the parent Melodic Minor scale, as well it's most common chord applications.

More on those applications coming up.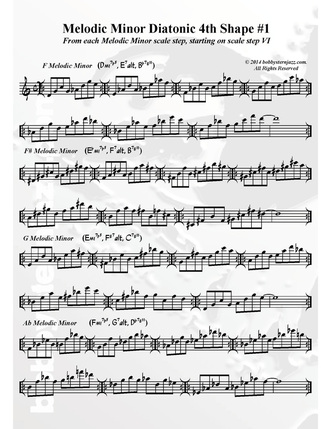 B. Stern