Granted! - A Joe Henderson Solo Transcription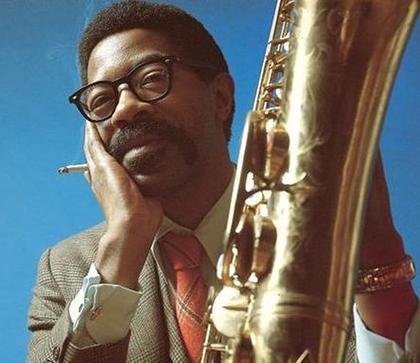 Joe, as you should know, was one of the music's more stylistically unique and influential tenor saxophonists and improvisers, as well as the composer of a healthy number of classic originals.

His influence and legacy live on in his many recordings, made both as leader and sideman, during a career which spanned nearly four decades.

Henderson's tenor saxophone solo on one of those original compositions, an uptempo C Minor Blues entitled "Granted" (dedicated to the renowned NYC Jazz Radio personality and promoter, Alan Grant, who recently passed away at 93), is the subject of this post and downloadable transcription.

"
Granted
" was recorded by Rudy Van Gelder on January 27th, 1966 (which happened to be the 25th birthday of the session's vibraphonist, Bobby Hutcherson) and was part of the session that produced Henderson's fifth and last studio album as a leader for the
Blue Note
label,
"Mode for Joe"
.
At the time of the recording, Joe Henderson was a member of pianist Horace Silver's quintet, which also included a young Woody Shaw on trumpet. Henderson had joined Silver's group in June, 1964 and would remain with the pianist for just another two-plus months.
The fact that he was performing and recording constantly during this stretch, finds Joe in great shape. This period, from when he hit the ground running upon arriving in New York in 1962 (making his recording debut on Kenny Dorham's "Una Mas" album not long thereafter); until leaving Silver's band in April 1966, might be considered Joe Henderson's freshest and most fertile, if not his most prolifically recorded musical period.

It was an incredibly fertile period for the music in general, in any case. It was the 1960's, and times, "they were a-changin'." New York City was populated by a legendary crop of young, black musical innovators, of which the lineup on "Mode for Joe" is but one example. Everybody on the date, with the exception of trombonist Curtis Fuller and pianist Cedar Walton, was still in their twenties at the time of the recording; with Fuller being the "old man" at thirty-one.

The vibe of this whole album, including the writing, is representative of the period; which could be described as a passionate, yet controlled and focused aggression. Each of the soloists shares the same "blues sensibility" and rhythmic sensitivity of that generation's great players.

"Granted", a Henderson original, is an uptempo C minor blues; its solo changes being identical to John Coltrane's "Mr. PC". It is "straight ahead" harmonically, as well as rhythmically, and the solos are all very much "inside" the changes.

The "head" of "Granted", however, has some added dominant harmonic movement and the line itself might be somewhat challenging at first, mainly due to the tempo (ca. 270 bpm).

After brief, but commanding solos by the great Lee Morgan and trombonist Curtis Fuller, Joe busts center stage and into the spotlight.....doin' the.......Macarena?!!

Thirty years before the rest of us heard it (You're scaring me, Joseph!).

Joe must have been using some of that liquid stuff; you know; pour it in your ear and you can hear the music before it comes!!

Each of Henderson's 13 twelve bar choruses is like its own self contained short story, full of "Joe-isms"; i.e. sequences; repetitive rhythmic phrases; locked in with, or floating over or against the time. In fact, what makes this solo so appealing is Joe's whole rhythmic approach; his awesome sense of time and creative control of it.

I think they call that swing, don't they?

Then, of course, there's Joe's unmistakable and inimitable "sound".

Killing, is the arpeggiated sequence in chorus #8, from measures 208 - 215 (ca. 3:17). Joe keeps the four-note arpeggated ascending shape in tact for eight bars (4 - 11) of the chorus. On the face of it, it may not seem like a big deal; but ascending arpeggios at that tempo, for that duration is not something typically heard from a saxophonist. It's more like something you might hear from a pianist. Note that these are not all straight up 1-3-5-7 arpeggios, either; and check out how he moves the bottom note around, in either whole or half steps.

That's an exercise in and of itself!

If you haven't seen this interview with the late , great Michael Brecker (as well, a Horace Silver alumnus), hear what he has to say briefly (at ca. 2:30) about Joe Henderson's (as well as 'Trane's & Sonny's) influence on him.

For a lot of you tenor players out there who've been trying to sound "just like Brecker, dude!": If you wanna "play like Mike", you might also want to get to "know some Joe"!


Most importantly, get to know yourself!

"A genius is the one most like himself!" - Thelonious Sphere Monk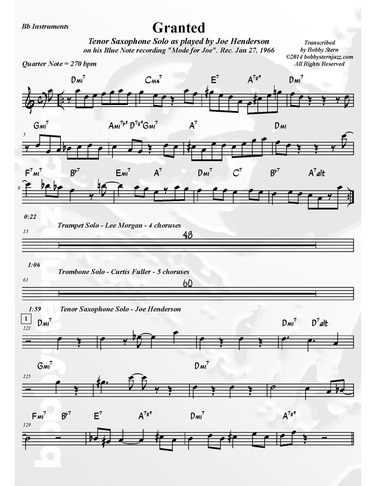 B. Stern