Spring's the Thing! - An Etude Based on Freddie Hubbard's
"Up Jumped Spring"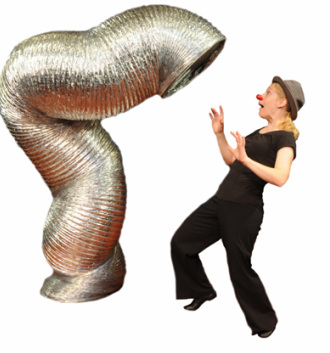 Seasonally speaking, I realize I'm a few days late, but one tune I've always enjoyed playing is Freddie Hubbard's classic jazz waltz, "
Up Jumped Spring
" - so I wrote a "solo style" etude based on its changes, which I present here.
Freddie Hubbard was not only one of the music's all-time great trumpet voices, he was also an accomplished and prolific composer who contributed a number of classics to the repertoire (Little Sunflower, Birdlike, Red Clay, etc.), as well as some great lesser known gems (Lament for Booker, Blue Spirits, among others).

"Up Jumped Spring" has a form of A1-A2-B-A3. Each "A" section is 16 bars long and has a different ending. The bridge, or "B" section, is 8 bars long, which adds up to and makes this a 56 bar tune.

Can you name another tune with the same form?


One tune which immediately "springs" to mind is Kurt Weil and Ogden Nash's "
Speak Low
" (Shhh! It has the same
AABA
,
16-16-8-16
=
56 bar
form, in 4/4).
"Up Jumped Spring" also contains several slick deceptive cadences whereby, to my mind at least, it seems that Freddie was trying to avoid the common, expected root movements.

The tune starts out with a typical I-VI7-ii-V7 (Bb / G7 / C-7/ F7 concert) for the first four bars, with the expectation being a return to Bb.

But on the last beat of bar 4 (of the tune, not the PDF, which is numbered starting with the pick-up measure) Freddie inserted an F# diminished 7th passing chord (I messed that up on the PDF. It should be a half step higher than labeled, see note below).

The F# dim7 passing chord is really a D7b9 without the root, which is in turn the V7 of G minor, which happens to be the root of the next chord.

The changes then descend very nicely via G-7 / F-7 / E-7 / A7 over the next four bars until we get to
D-7 /Eb-7 /D-7 / Eb-7, which might be the most challenging part of the tune.

As an improviser, repeating, parallel chromatic changes can be challenging to navigate because of the scarcity of common tones....but we'll get through it - only to wind up at B-7b5/ E7b9 / C-7b5 / F7b9.

The B-7b5/ E7b9 here is another "deception", as it looks like Ready Freddie was trying not to go back to to D-7, the iii7 of Bb, which would have begun the typical, and expected iii7/ VI7/ ii7/ V7 turnaround back to Bb..

Instead, he substitutes the ii7b5/ V7b9 a minor third below D-7 (B-7b5/ E7b9), which has it's roots in the same diminished 7th chord (B-D-F-Ab), which sounds as good as it is unexpected, and at the same time, moves seamlessly to the second half of the turnaround, ii7b5/ V7b9 (C-7b5/ F7b9) and back home to Bb for the second 16 bar "A" section.

The last 4 bars of the second "A" do exactly what Brother Hub was trying to avoid the first time around: a straight up ii7/ V7/ I (C-7/ F7/ Bb Maj7) before two fiving (A-7/ D7) into G min, which itself becomes a ii7 (G-7/ C7/ F Maj7/ D-7) for the first four bars of the bridge, or "B" section.

Once on the bridge, the composer then returns to his deceptive ways with a straight up, parallel tritone substitution for the iii7/ VI7 (Ab-7/ Db7 for D-7/ G7) before two fiving it (C-7/ F7) back to Bb again and the third and final "A" section.

The last four bars of the tune take a final twist: ii-V7 in the first two bars and then a very slick and unexpected bII Maj7 (Cb, "you can call me B" Maj7) with the melody (A#, enharmonically Bb) as the Maj 7th, resolving on the second beat of the final bar to the Maj. 7th (A) of the tonic I Maj7 (Bb Maj7) chord.

I kept the final two notes of the original melody in the etude, also, as well as the melodic rhythm of the last 2 bars.

This is one very cool tune. Logical, intelligent, beautiful melody, challenging but not intimidating. Plus it's got a clever title.

Well done, Frederick, my man! I only regret I didn't know more about this stuff when you let me sit in back in '81. I would have had a much sharper pick with which to have picked your brain! Thank you, man & R.I.P!

Ooops, talking to the spirits again!

The etude itself is a combination of improvised and composed lines, which were then edited as needed in order to create rhythmic balance in and between the phrases.

Hope you likes!

Please Note: The Diminished 7th passing chord in measures 5, 21 and 45 of the etude should be one half step higher than what is shown on the PDF (ie,. F# dim7 concert and not F dim7 concert, as is erroneously labeled.).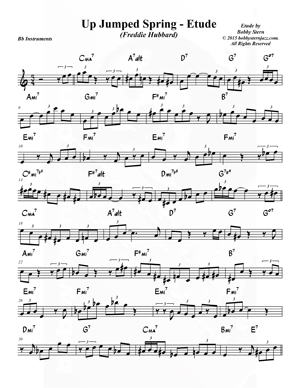 B. Stern